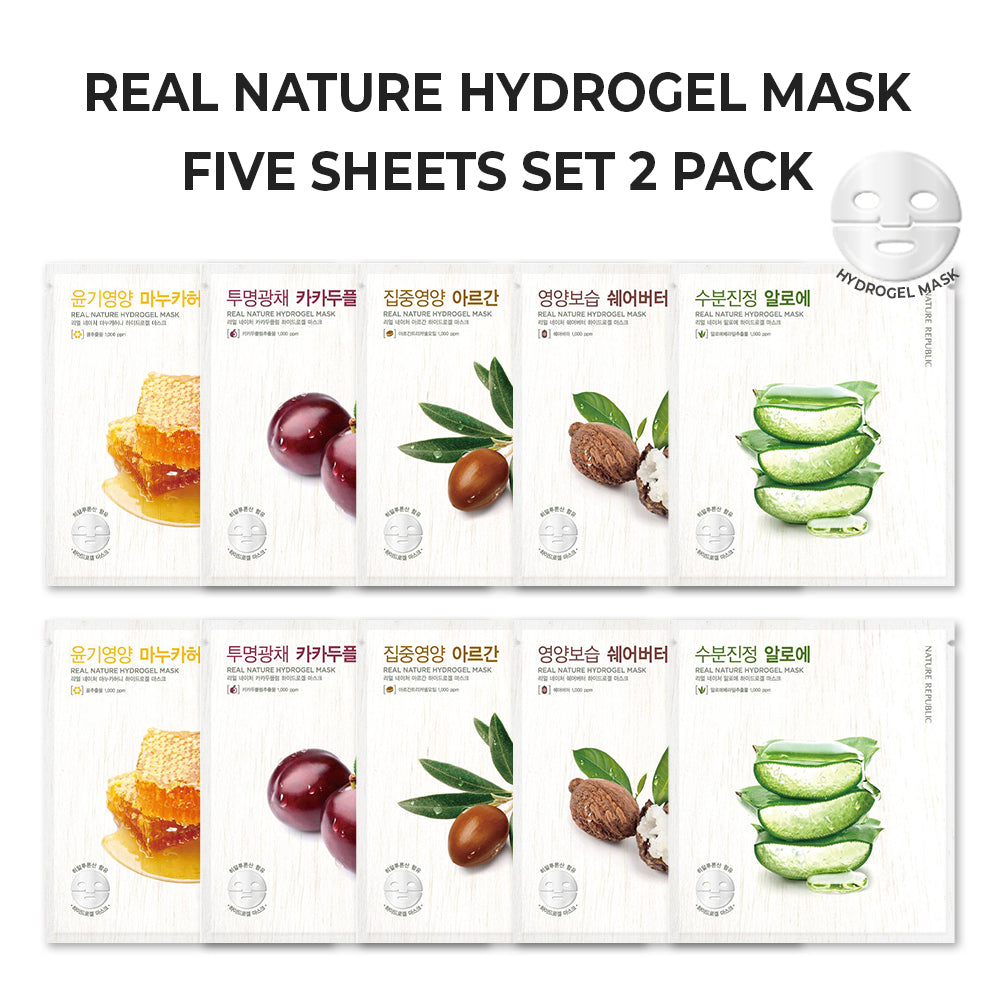 [10x] Real Nature Hydrogel Mask Sheet Variety Set
$29.00
$14.50
Sale

• Save
Description
How To Use
Ingredients
Real Nature Hydrogel Mask Sheet Variety Set of 10 -
2 x Manuka Honey Hydrogel 
Mask Sheet
2 x Kakadu Plum Hydrogel 
Mask Sheet
2 x Argan Hydrogel 
Mask Sheet
2 x Shea Butter Hydrogel 
Mask Sheet
2 x Aloe Hydrogel 
Mask Sheet
22 g / net wt. 0.77 oz. ea

Each Real Nature Hydrogel Mask Sheets provide rich moisture to the skin while each mask sheet provides different types of great benefits to the skin.

- Manuka Honey Hydrogel: Rich honey extract mainly helps the skin to be glossy & moisturized for a long time.

- Kakadu Plum Hydrogel: Austrailian Kakadu plum extract gives the skin a clear & bright glow while delivering moisture to the skin.

- Argan Hydrogel: Argantricannel oil is included to fill the skin with deep nutrition and help the skin to be strong and healthy. 

- Shea Butter Hydrogel: Shea Butter provides rich nourishment and moisture to the skin.

- Aloe Hydrogel: Rich Aloe Vera leaf extract soothes and moisturizes skin.


1. After washing the face, apply toner on skin.

2. Remove the film from one side of the sheet and place the adhesive side on the face. Attach the sheet closely to the face starting from the chin to the forehead. Remove the mask after 20 minutes.

3. Gently pat the residue of moisture substances on the face to promote absorption into skin.

CAUTIONS:
Use immediately after opening.
For external use only. Avoid contact with eyes. Discontinue use if signs of irritation or rashes appear. Keep out of reach of children.
MANUKA HONEY HYDROGEL MASK SHEET:
WATER, GLYCERIN, DIPROPYLENE GLYCOL, CAPRYLIC/CAPRIC TRIGLYCERIDE, CERATONIA
SILIQUA (CAROB) GUM, CHONDRUS CRISPUS POWDER, GLYCERYL STEARATE, BUTYLENE GLYCOL, PAEONIA SUFFRUTICOSA ROOT EXTRACT,
CENTELLA ASIATICA EXTRACT, CELLULOSE GUM, ALGIN, 1,2-HEXANEDIOL, CHAMOMILLA RECUTITA (MATRICARIA) FLOWER EXTRACT, HONEY EXTRACT, GLYCERYL CAPRYLATE, SODIUM POLYACRYLATE, HYDROGENATED POLYDECENE, ETHYLHEXYLGLYCERIN, MELA AZADIRACHTA LEAF
EXTRACT, TRIDECETH-6, SODIUM HYALURONATE, HYDROLYZED HYALURONIC ACID, DISODIUM EDTA, PHENOXYETHANOL, FRAGRANCE

KAKADU PLUM HYDROGEL MASK SHEET:
WATER, GLYCERIN, DIPROPYLENE GLYCOL, CAPRYLIC/CAPRIC TRIGLYCERIDE, CERATONIA SILIQUA (CAROB) GUM. CHONDRUS CRISPUS POWDER, GLYCERYL STEARATE, BUTYLENE GLYCOL, PAEONIA SUFFRUTICOSA ROOT EXTRACT, CENTELLA ASIATICA EXTRACT, CELLULOSE GUM, ALGIN, 1,2-HEXANEDIOL, CHAMOMILLA RECUTITA (MATRICARIA) FLOWER EXTRACT, TERMINALIA, FERDINANDIANA FRUIT EXTRACT, GLYCERYL CAPRYLATE, SODIUM POLYACAYLATE, HYDROGENATED POLYDECENE.
ETHYLHEXYLGLYCERIN, MELA AZADIRACHTA LEAF EXTRACT, TRIDECETH-6, SODIUM HYALURONATE, HYDROLYZED HYALURONIC ACID, DISODIUM EDTA. PHENOXYETHANOL, FRAGRANCE, LINALOOL, LIMONENE

ARGAN HYDROGEL MASK SHEET:
WATER, GLYCERIN, DIPROPYLENE GLYCOL
CAPRYLIC/CAPRIC TRIGLYCERIDE, CERATONIA SILIQUA (CAROB) GUM, CHONDRUS CRISPUS POWDER, GLYCERYL STEARATE, BUTYLENE
GLYCOL, PAEONIA SUFFRUTICOSA ROOT EXTRACT, CENTELLA ASIATICA EXTRACT, CELLULOSE GUM, ALGIN; 1,2-HEXANEDIOL CHAMOMILLA RECUTITA (MATRICARIA) FLOWER EXTRACT, ARGANIA SPINOSA KERNEL OIL, GLYCERYL CAPRYLATE, SODIUM POLYACRYLATE HYDROGENATED POLYDECENE, ETHYLHEXYLGLYCERIN, MELIA AZADIRACHTA LEAF EXTRACT, TRIDECETH-6, SODIUM HYALURONATE, HYDROLYZED HYALURONIC ACID, DISODIUM EDTA., PHENOXYETHANOL FRAGRANCE

SHEA BUTTER HYDROGEL MASK SHEET:
WATER, GLYCERIN, DIPROPYLENE GLYCOL, CAPRYLIC/CAPRIC TRIGLYCERIDE, CERATONIA SILIQUA (CAROB) GUM, CHONDRUS CRISPUS POWDER, GLYCERYL STEARATE, BUTYLENE GLYCOL, PAEONIA SUFFRUTICOSA ROOT EXTRACT, CENTELLA ASIATICA EXTRACT, CELLULOSE GUM, ALGIN, 1,2-HEXANEDIOL CHAMOMILLA RECUTITA (MATRICARIA) FLOWER EXTRACT, BUTYROSPERMUM PARKII (SHEA) BUTTER, GLYCERYL CAPRYLATE, SODIUM POLYACRYLATE, HYDROGENATED POLYDECENE, ETHYLHEXYLGLYCERIN, MELIA AZADIRACHTA LEAF EXTRACT, TRIDECETH-6, SODIUM HYALURONATE, HYDROLYZED HYALURONIC ACID, DISODIUM EDTA, PHENOXYETHANOL, FRAGRANCE

ALOE HYDROGEL MASK SHEET:
WATER, GLYCERIN, DIPROPYLENE GLYCOL, CAPRYLIC/CAPRIC TRIGLYCERIDE, CERATONIA SILIQUA (CAROB) GUM, CHONDRUS CRISPUS POWDER, GLYCERYL STEARATE, BUTYLENE GLYCOL, PAEONIA SUFFRUTICOSA ROOT EXTRACT, CENTELLA ASIATICA EXTRACT, CELLULOSE GUM, ALGIN, 1,2-HEXANEDIOL, CHAMOMILLA RECUTITA (MATRICARIA) FLOWER EXTRACT, ALOE BARBADENSIS LEAF EXTRACT. GLYCERYL CAPRYLATE, SODIUM POLYACRYLATE, HYDROGENATED POLYDECENE, ETHYLHEXYLGLYCERIN, MELIA AZADIRACHTA LEAF EXTRACT, TRIDECETH-6, SODIUM HYALURONATE, HYDROLYZED HYALURONIC ACID, DISODIUM EDTA, PHENOXYETHANOL, FRAGRANCE