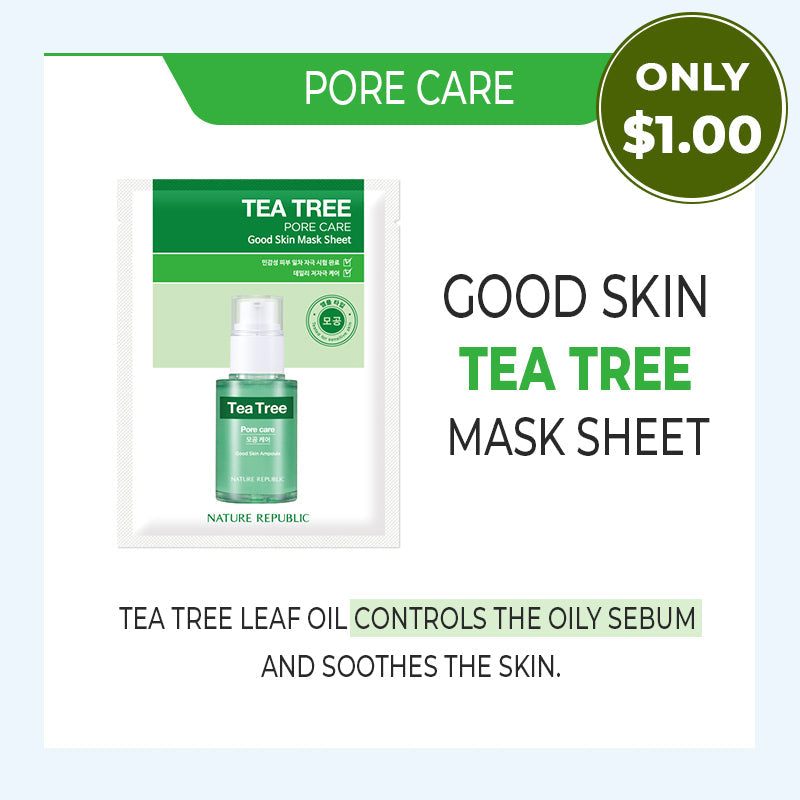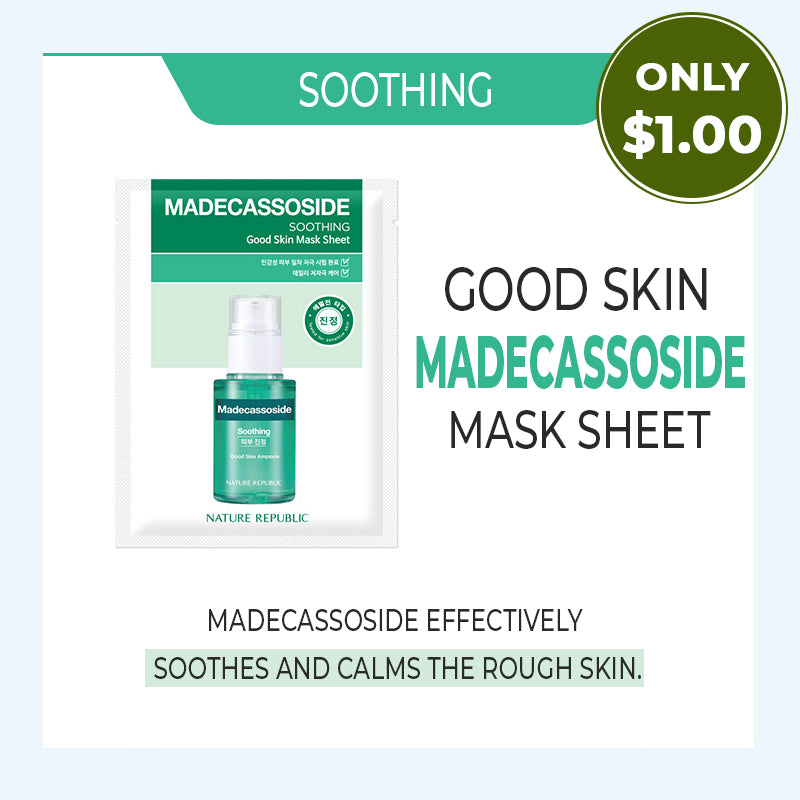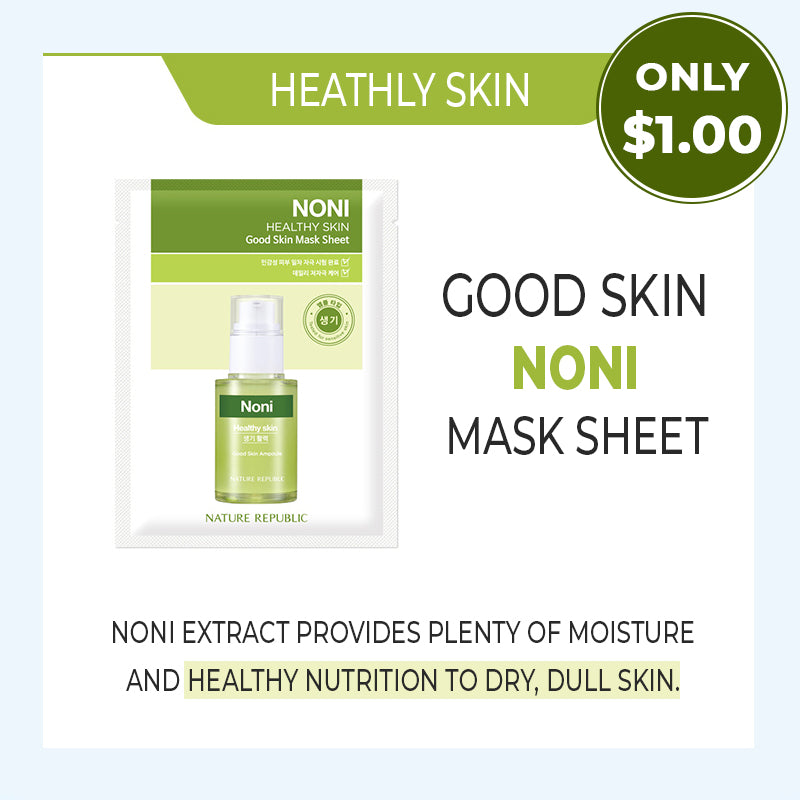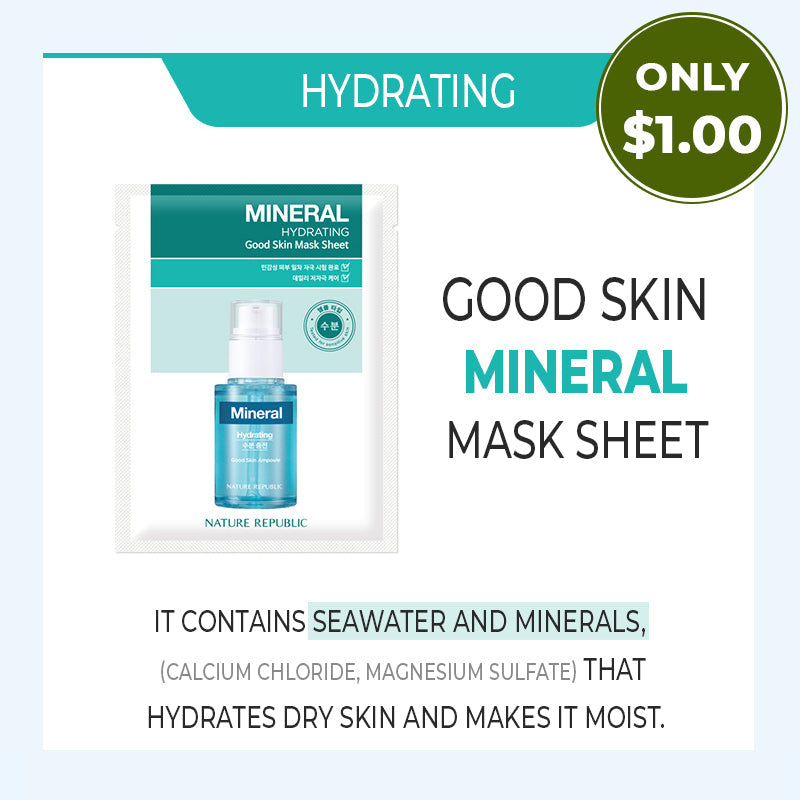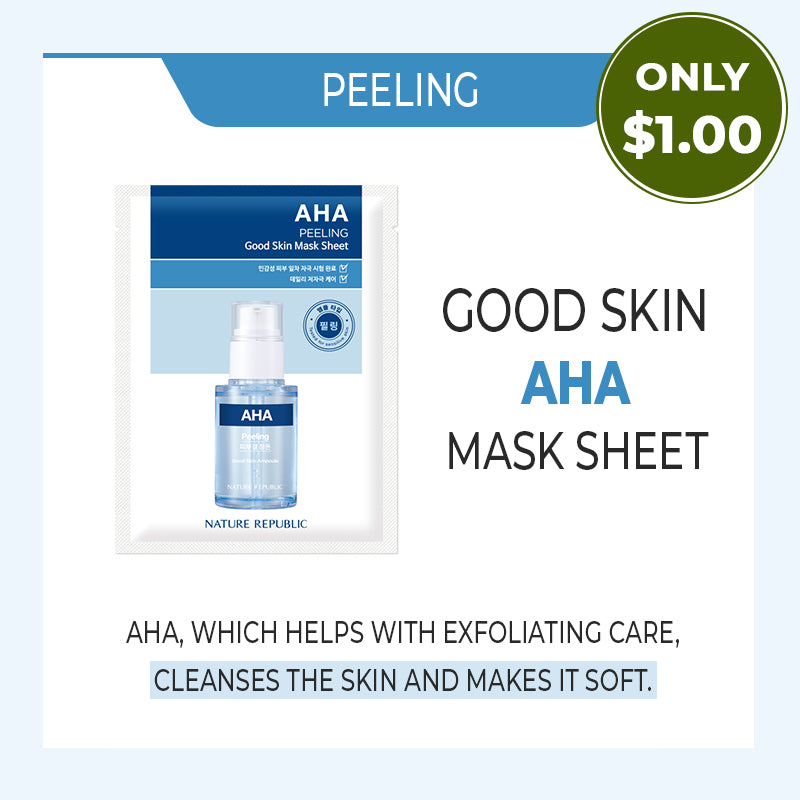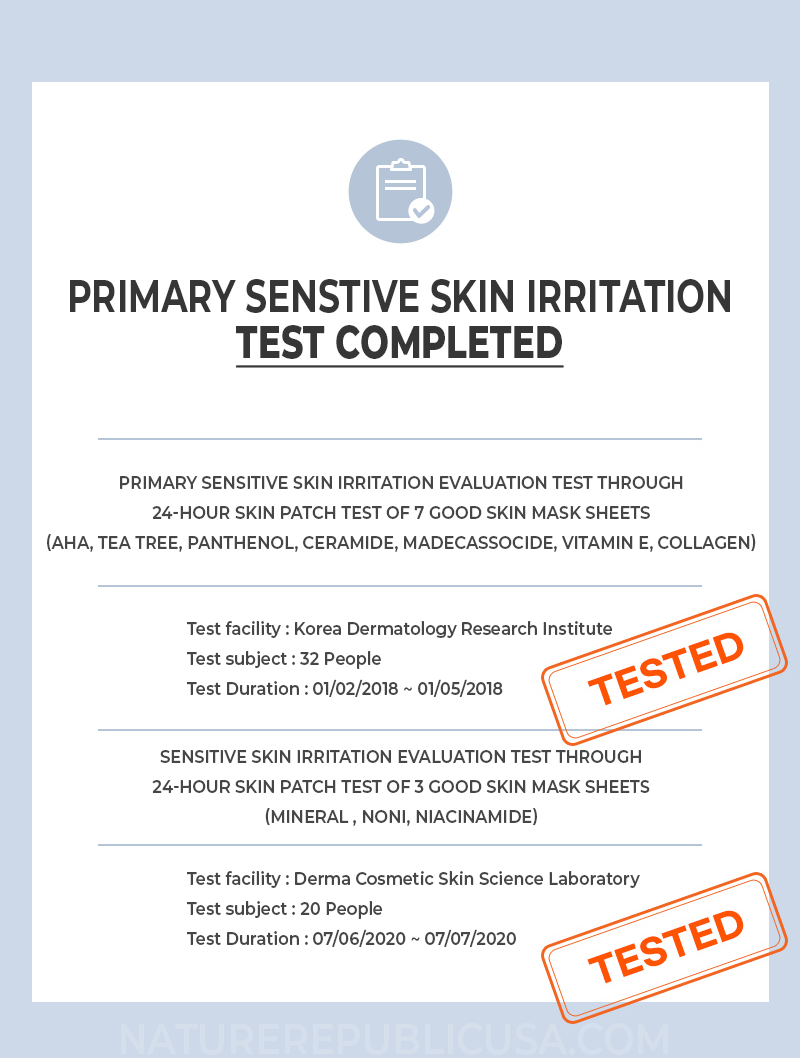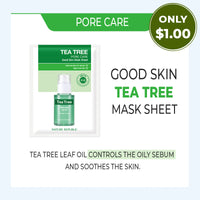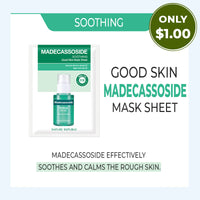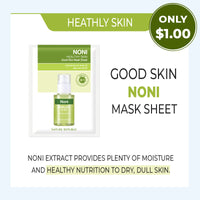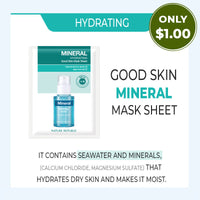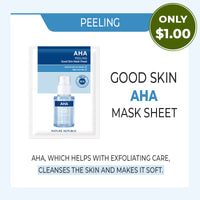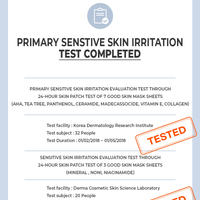 Good Skin Mask Sheet (6 Option)
Description
How To Use
Ingredients
24 g / net wt. 0.84 oz. EA

Emulsion Type:
Vitamin E (Glossy skin)
Madecassocide (Soothing)
Ampoule Type
Tea Tree (Pore care)
Noni (Healthy skin)
Mineral (Hydrating)
AHA (Peeling)
The Good Skin line provides 10 kinds of skin problem solutions for skin with the most gentle and non-aggressive ingredients to make skin healthier.

*Each of the mask sheets contains Flower, Fruit or Leaf Extract ingredients which makes it suitable for sensitive skin.
1. After washing the face, apply toner to prepare the skin for the next step of skin care.

2. Open the pouch, pull out the sheet, apply on the face using the eye area to align correctly.

3. Remove after 10-20 minutes and gently pat for better absorption.

CAUTIONS:
For external use only. Avoid contact with eyes. Discontinue use if signs of irritation or rashes appear. Keep out of reach of children. Replace cap after use.
COLLAGEN:
WATER, DIPROPYLENE GLYCOL, GLYCERIN, OLEA EUROPAEA (OLIVE) FRUIT OIL, ALTHAEA ROSEA FLOWER EXTRACT, CITRUS AURANTIUM BERGAMIA (BERGAMOT) FRUIT OIL, CITRUS AURANTIUM DULCIS (ORANGE) OIL, COPAIFERA OFFICINALIS (BALSAM COPAIBA) RESIN, GAULTHERIA PROCUMBENS (WINTERGREEN) LEAF EXTRACT, CYMBOPOGON MARTINI OIL, HYDROXYACETOPHENONE, ALLANTOIN, POLYGLYCERYL-10 LAURATE, POLYGLYCERYL-10 MYRISTATE, TROMETHAMINE, CAPRYLYL GLYCOL, ETHYLHEXYLGLYCERIN, BUTYLENE GLYCOL, 1,2-HEXANEDIOL, CITRIC ACID, XANTHAN GUM, CAFFEINE, CARBOMER, DISODIUM EDTA, LIMONENE

CERAMIDE:
WATER, GLYCERIN, CAPRYLIC/CAPRIC TRIGLYCERIDE, AGAVE AMERICANA STEM EXTRACT, OLEA EUROPAEA (OLIVE) FRUIT OIL, CITRUS AURANTIUM DULCIS (ORANGE) OIL, ALTHAEA ROSEA FLOWER EXTRACT, LAVANDULA ANGUSTIFOLIA (LAVENDER) OIL, CITRUS AURANTIUM BERGAMIA (BERGAMOT) FRUIT OIL, GLYCERYL STEARATE, HYDROXYACETOPHENONE, ACRYLATES/C10-30 ALKYL ACRYLATE CROSSPOLYMER, ALLANTOIN, TROMETHAMINE, CAPRYLYL GLYCOL, ETHYLHEXYLGLYCERIN, BUTYLENE GLYCOL, 1,2-HEXANEDIOL, HYDROGENATED LECITHIN, CERAMIDE NP, CETEARYL ALCOHOL, CAFFEINE, XANTHAN GUM, DISODIUM EDTA, LIMONENE

VITAMIN E:
WATER, GLYCERIN, CAPRYLIC/CAPRIC TRIGLYCERIDE, AGAVE AMERICANA STEM EXTRACT, CITRUS AURANTIUM DULCIS (ORANGE) OIL, ALTHAEA ROSEA FLOWER EXTRACT, CUPRESSUS SEMPERVIRENS OIL, LAVANDULA HYBRIDA OIL, ROSMARINUS OFFICINALIS (ROSEMARY) LEAF OIL, LITSEA CUBEBA FRUIT OIL, GLYCERYL STEARATE, HYDROXYACETOPHENONE, ACRYLATES/C10-30 ALKYL ACRYLATE CROSSPOLYMER, ALLANTOIN, TROMETHAMINE, CAPRYLYL GLYCOL, ETHYLHEXYLGLYCERIN, TOCOPHERYL LINOLEATE/OLEATE, BUTYLENE GLYCOL, 1,2-HEXANEDIOL, CETEARYL ALCOHOL, CAFFEINE, XANTHAN GUM, DISODIUM EDTA, LIMONENE

NIACINAMIDE:
WATER, GLYCERIN, DIPROPYLENE GLYCOL, NIACINAMIDE, ALTHAEA ROSEA FLOWER EXTRACT, CITRUS AURANTIUM DULCIS (ORANGE) OIL, CITRUS NOBILIS (MANDARIN ORANGE) PEEL OIL, CEDRUS DEODARA WOOD OIL LAVANDULA HYBRIDA OIL, PELARGONIUM GRAVEOLENS FLOWER OIL, HYDROXYACETOPHENONE. ALLANTOIN, POLYGLYCERYL-10 LAURATE, POLYGLYCERYL-10 MYRISTATE, TROMETHAMINE, CAPRYLYL GLYCOL, ETHYLHEXYLGLYCERIN, BUTYLENE GLYCOL. 1.2-HEXANEDIOL ASCORBIC ACID, ALCOHOL, XANTHAN GUM, CAFFEINE, CARBOMER, DISODIUM EDTA, LIMONENE

MADECASSOCIDE:
WATER, GLYCERIN, CAPRYLIC/CAPRIC TRIGLYCERIDE, AGAVE AMERICANA STEM EXTRACT, HYDROLYZED COLLAGEN, LAVANDULA ANGUSTIFOLIA (LAVENDER) OIL, CITRUS AURANTIUM DULCIS (ORANGE) PEEL OIL, ALTHAEA ROSEA FLOWER EXTRACT, GLYCERYL STEARATE, HYDROXYACETOPHENONE, ACRYLATES/C10-30 ALKYL ACRYLATE CROSSPOLYMER, ALLANTOIN, TROMETHAMINE, CAPRYLYL GLYCOL, ETHYLHEXYLGLYCERIN, BUTYLENE GLYCOL, 1,2-HEXANEDIOL, CETEARYL ALCOHOL, CAFFEINE, XANTHAN GUM, DISODIUM EDTA, LIMONENE, LINALOOL

TEA TREE:
WATER, DIPROPYLENE GLYCOL, GLYCERIN, OLEA EUROPAEA (OLIVE) FRUIT OIL, ALTHAEA ROSEA FLOWER EXTRACT, MELALEUCA ALTERNIFOLIA (TEA TREE) LEAF OIL, PELARGONIUM GRAVEOLENS FLOWER OIL, CITRUS AURANTIUM DULCIS (ORANGE) OIL, EUCALYPTUS GLOBULUS LEAF OIL, HYDROXYACETOPHENONE, ALLANTOIN, POLYGLYCERYL-10 LAURATE, POLYGLYCERYL-10 MYRISTATE, TROMETHAMINE, CAPRYLYL GLYCOL, ETHYLHEXYLGLYCERIN, BUTYLENE GLYCOL, 1,2-HEXANEDIOL, XANTHAN GUM, CAFFEINE, CARBOMER, DISODIUM EDTA

NONI:
WATER, DIPROPYLENE GLYCOL, GLYCERIN, MORINDA CITRIFOLIA EXTRACT, CITRUS AURANTIUM BERGAMIA (BERGAMOT) FRUIT OIL, EUCALYPTUS GLOBULUS LEAF OIL, ALTHAEA ROSEA FLOWER EXTRACT, HYDROXYACETOPHENONE, ALLANTOIN, POLYGLYCERYL-10 LAURATE, PROPANEDIOL, POLYGLYCERYL-10 MYRISTATE, TROME THAMINE, CAPRYLYL GLYCOL, ETHYLHEXYLGLYCERIN, 1,2-HEXANEDIOL, BUTYLENE GLYCOL, XANTHAN GUM, CAFFEINE, CARBOMER, DISODIUM EDTA, LIMONENE, LINALOOL

MINERAL:
WATER, DIPROPYLENE GLYCOL, GLYCERIN, SEA WATER, SODIUM HYALURONATE, CITRUS AURANTIUM BERGAMIA (BERGAMOT) FRUIT OIL, ALTHAEA ROSEA FLOWER EXTRACT, EUCALYPTUS GLOBULUS LEAF OIL, HEDERA HELIX (IVY) EXTRACT, HYDROXYACETOPHENONE, ALLANTOIN, POLYGLYCERYL-10 LAURATE, POLYGLYCERYL-10 MYRISTATE, TROMETHAMINE, CAPRYLYL GLYCOL, ETHYLHEXYLGLYCERIN, 1,2-HEXANEDIOL, BUTYLENE GLYCOL, CALCIUM CHLORIDE, MAGNESIUM SULFATE, XANTHAN GUM, CAFFEINE, CARBOMER, DISODIUM EDTA, LIMONENE, LINALOOL

AHA:
WATER, DIPROPYLENE GLYCOL, GLYCERIN, OLEA EUROPAEA (OLIVE) FRUIT OIL, ALTHAEA ROSEA FLOWER EXTRACT, CITRUS AURANTIUM BERGAMIA (BERGAMOT) FRUIT OIL, CITRUS AURANTIUM DULCIS (ORANGE) OIL, COPAIFERA OFFICINALIS (BALSAM COPAIBA) RESIN, GAULTHERIA PROCUMBENS (WINTERGREEN) LEAF EXTRACT, CYMBOPOGON MARTINI OIL, HYDROXYACETOPHENONE, ALLANTOIN, POLYGLYCERYL-10 LAURATE, POLYGLYCERYL-10 MYRISTATE, TROMETHAMINE, CAPRYLYL GLYCOL, ETHYLHEXYLGLYCERIN, BUTYLENE GLYCOL, 1,2-HEXANEDIOL, CITRIC ACID, XANTHAN GUM, CAFFEINE, CARBOMER, DISODIUM EDTA, LIMONENE

PANTHENOL:
WATER, GLYCERIN, CAPRYLIC/CAPRIC TRIGLYCERIDE, AGAVE AMERICANA STEM EXTRACT, CITRUS AURANTIUM BERGAMIA (BERGAMOT) FRUIT OIL, ALTHAEA ROSEA FLOWER EXTRACT, GLYCERYL STEARATE, HYDROXYACETOPHENONE, ACRYLATES/C10-30 ALKYL ACRYLATE CROSSPOLYMER, ALLANTOIN, PANTHENOL, TROMETHAMINE, CAPRYLYL GLYCOL, ETHYLHEXYLGLYCERIN, BUTYLENE GLYCOL, 1,2-HEXANEDIOL, CETEARYL ALCOHOL, CAFFEINE, XANTHAN GUM, DISODIUM EDTA, LIMONENE, LINALOOL