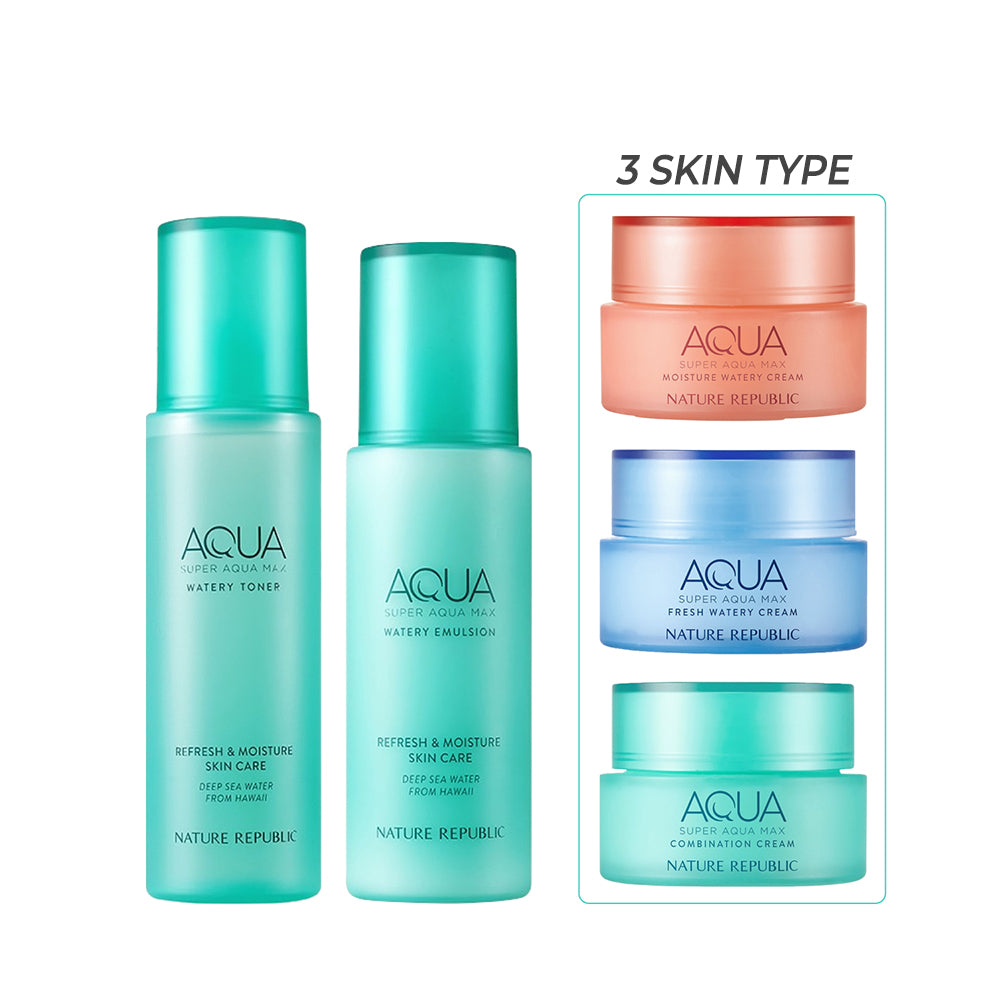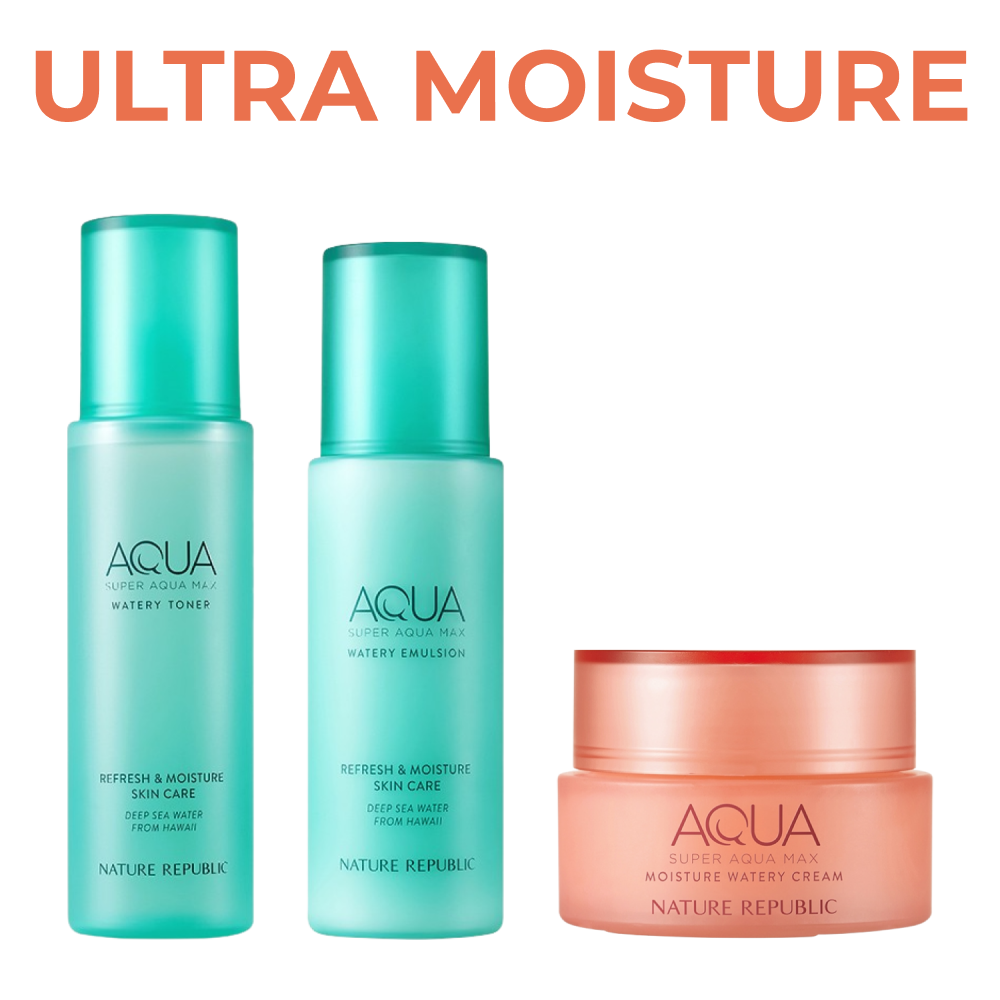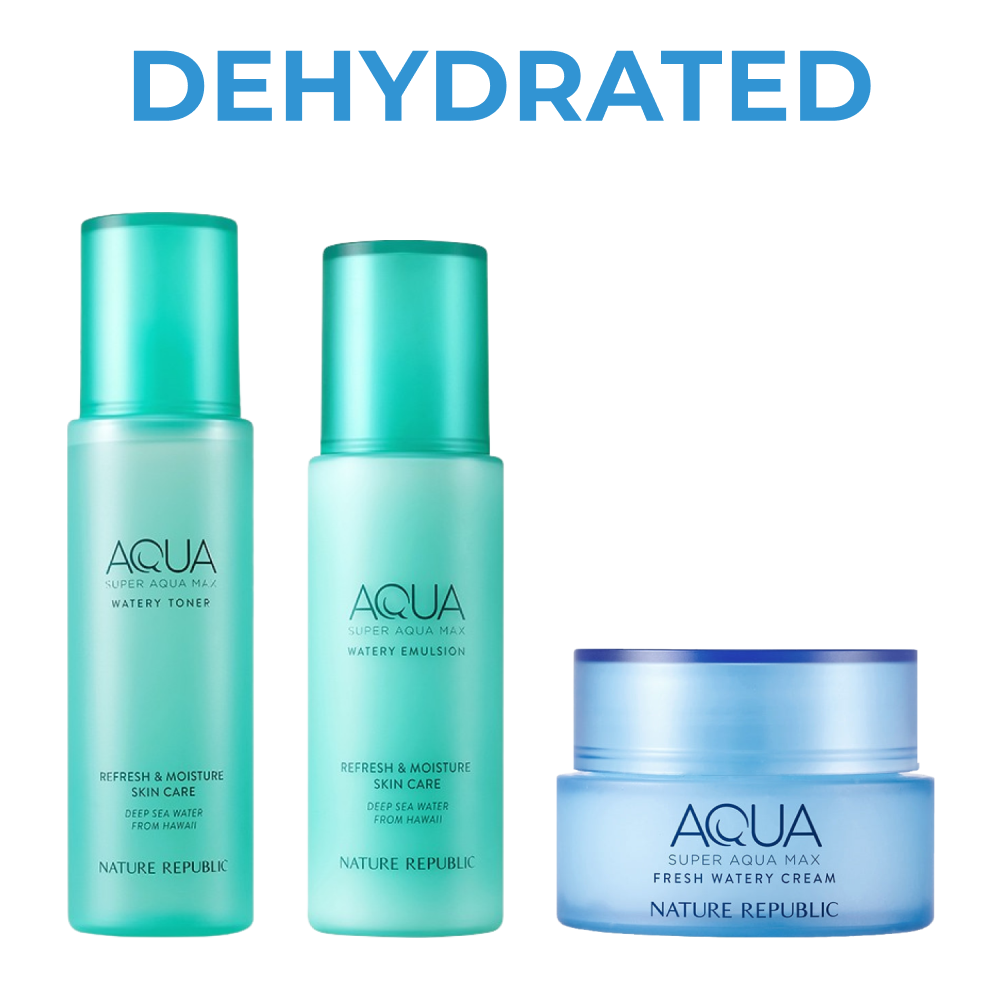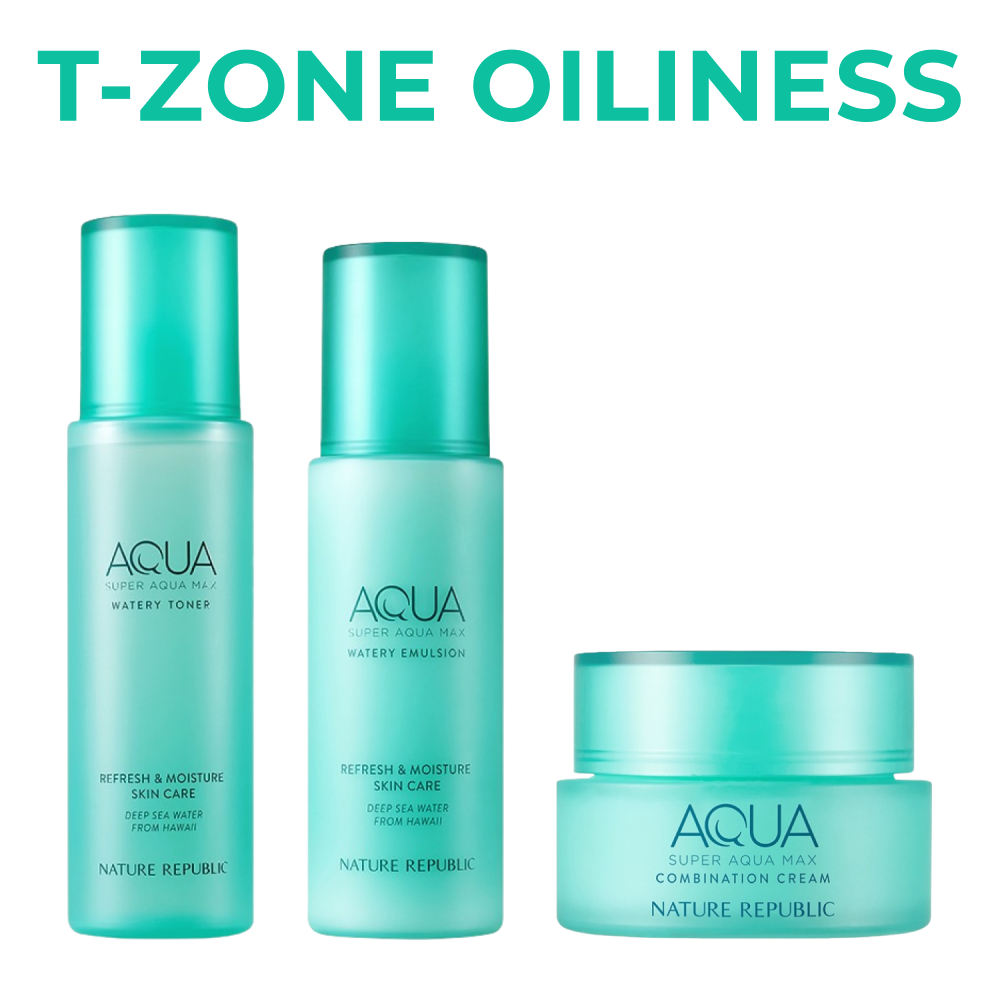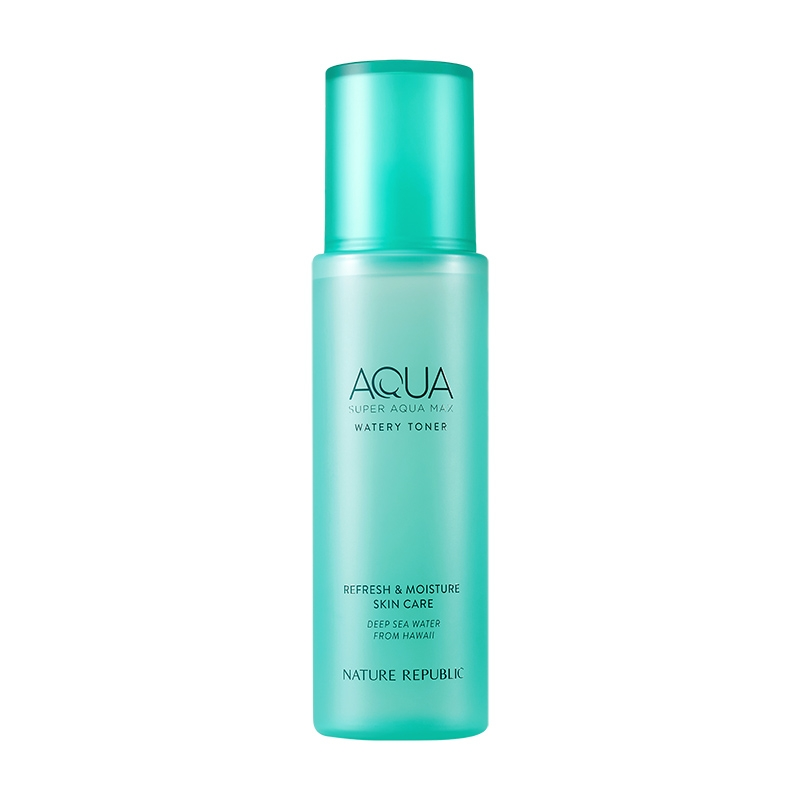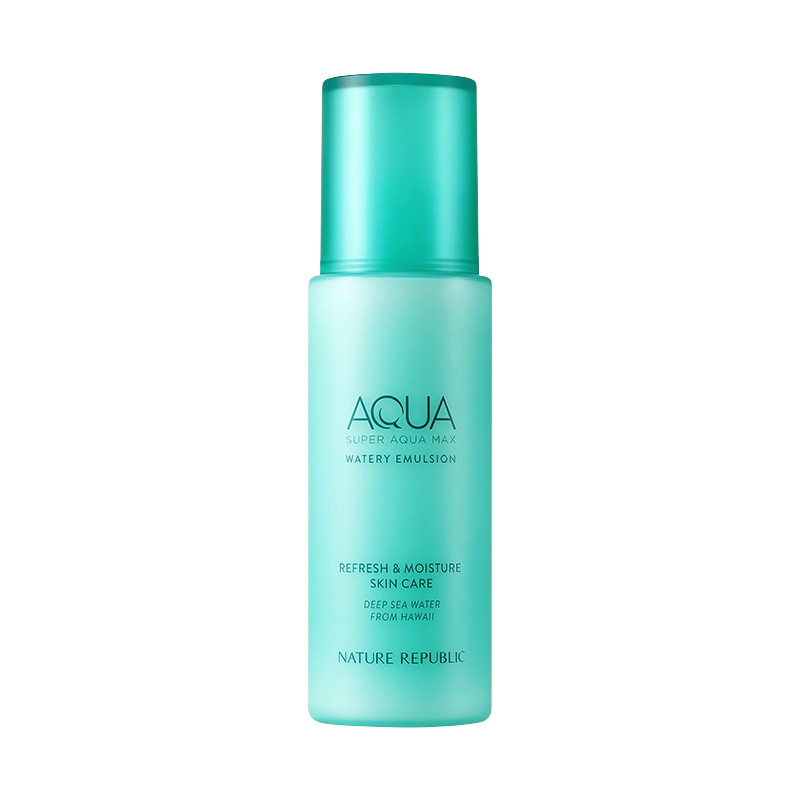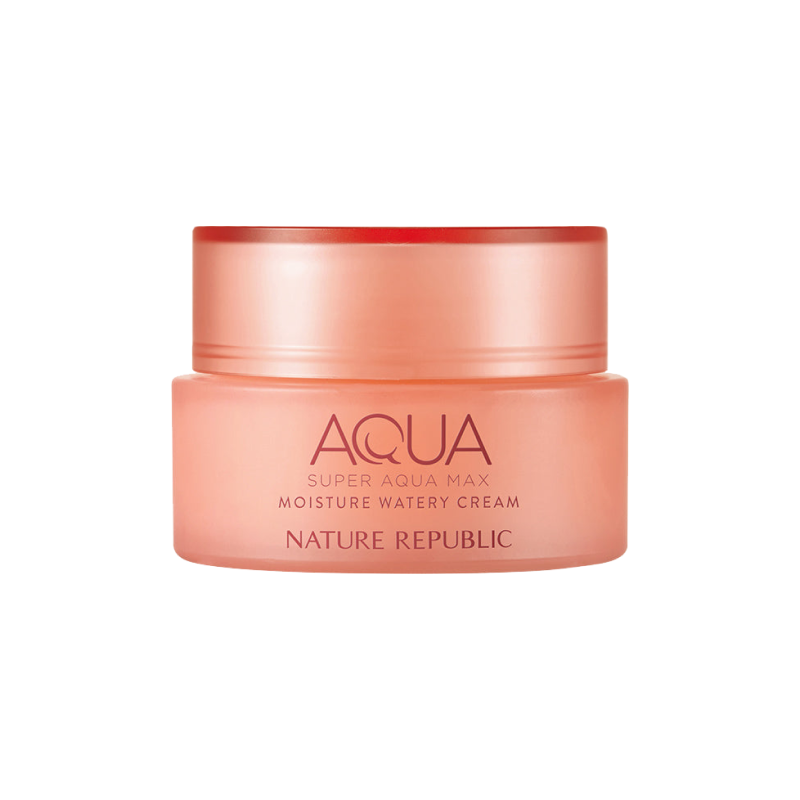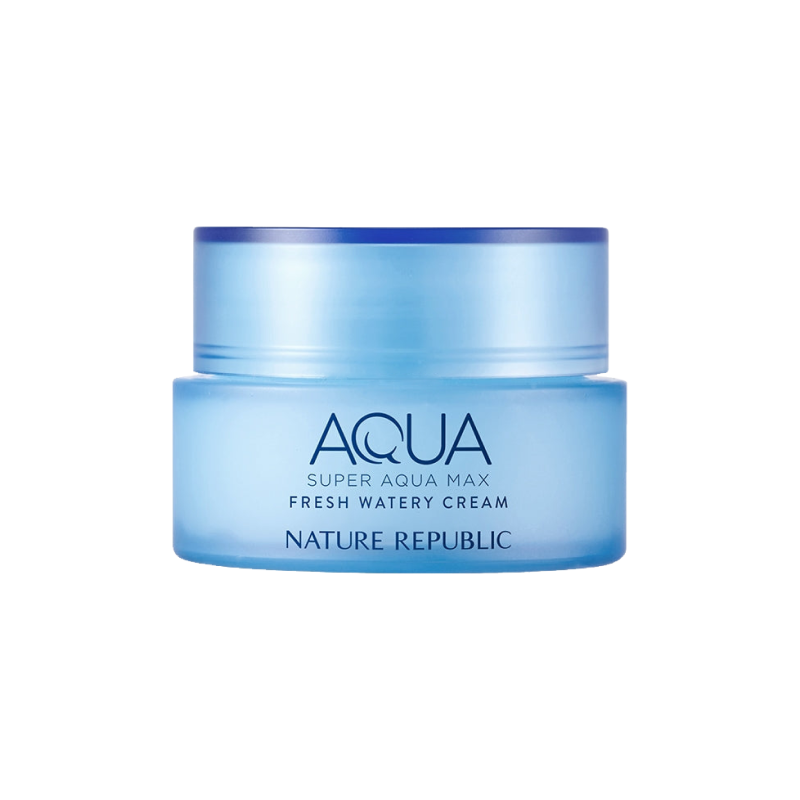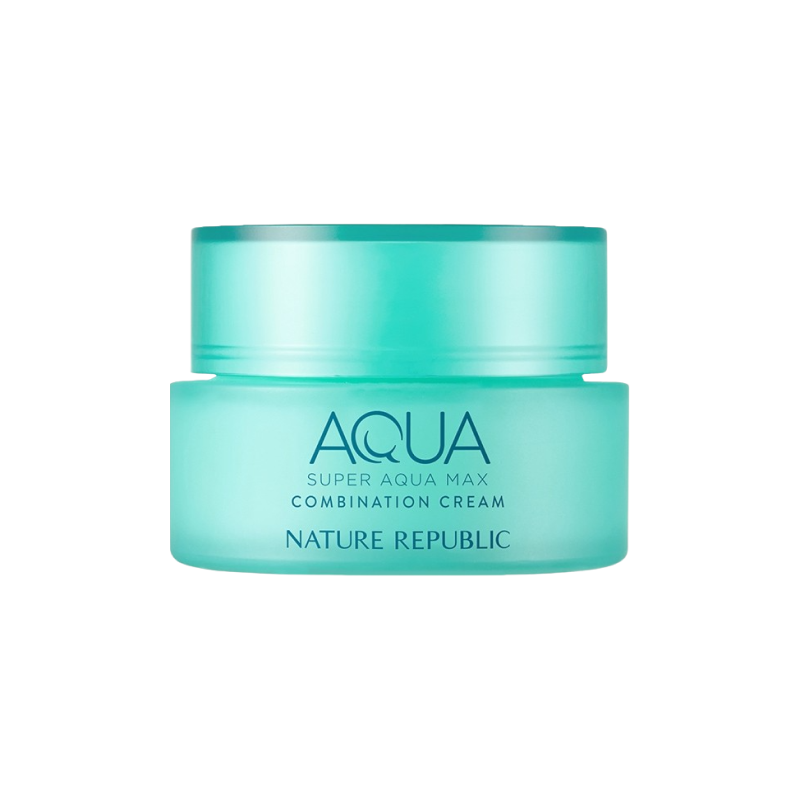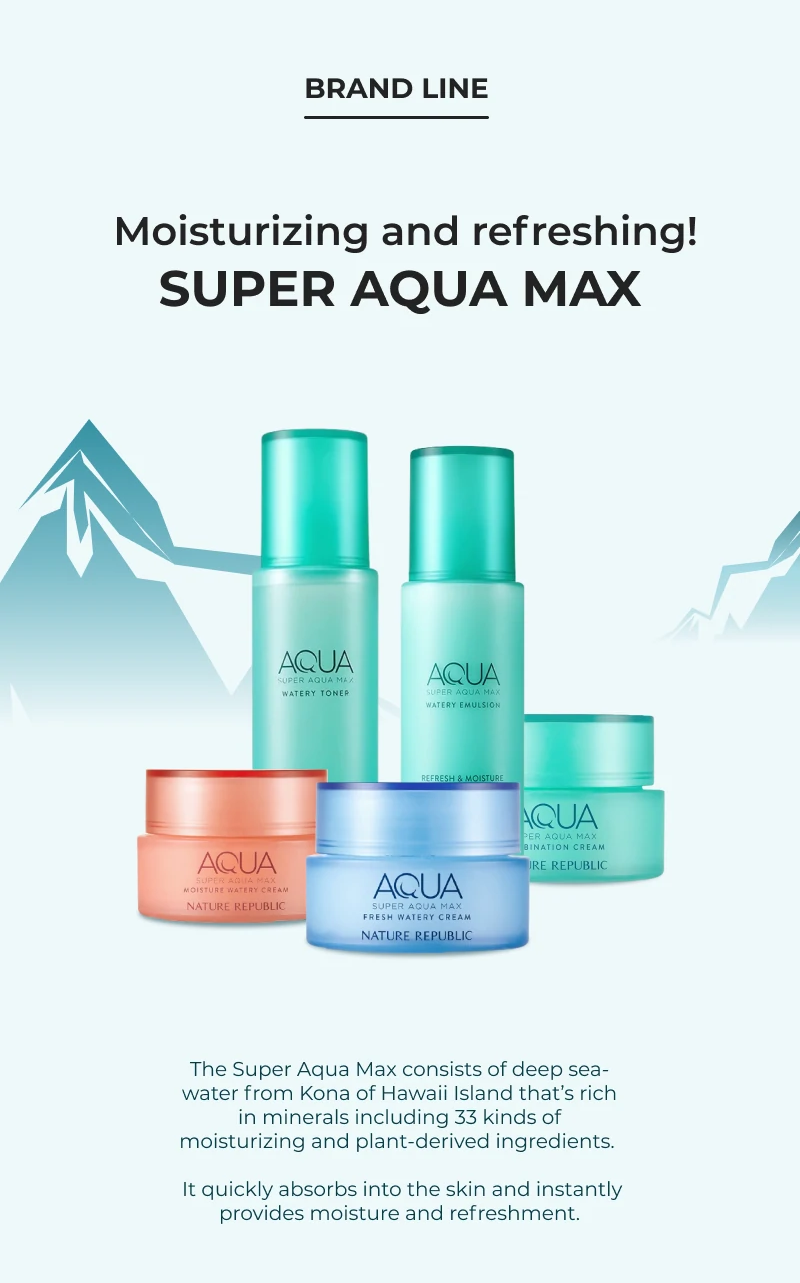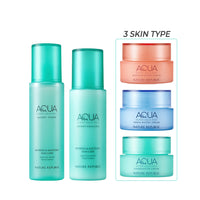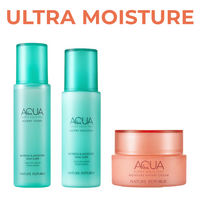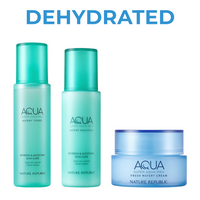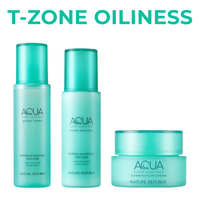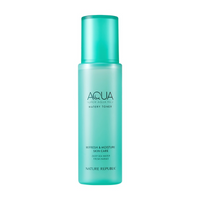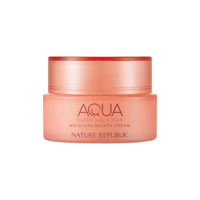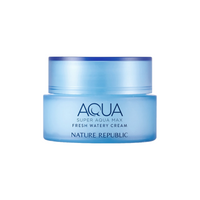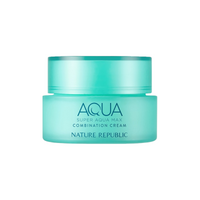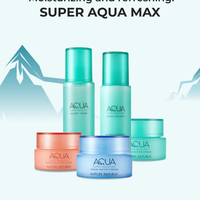 Super Aqua Max Set (Toner, Emulsion & Choose Your Watery Cream)
$59.00
$50.00
Sale

• Save
Description
How To Use
Ingredients
Super Aqua Max Flexible Set (Toner, Emulsion & choose your Cream) -
1x Super Aqua Max Toner: 
150 ml / 5.07 fl. oz.
1x Super Aqua Max Emulsion: 
130 ml / 4.39 fl. oz.
Choose Watery Cream Between: 
80 ml / 2.7 fl. oz. 
-
- Super Aqua Max Moisture Watery Cream (For Dry Skin)
- Super Aqua Max Fresh Watery Cream (For Oily Skin)
- Super Aqua Max Combination Watery Cream (For Combination Skin)
Toner:
After washing face, apply toner onto cotton pad or palms and spread evenly onto face . Gently pat for better absorption and apply emulsion after.

Emulsion:
After applying toner, apply emulsion onto your face until fully moisturized and gently pat for better absorption.

Cream:
At the last step of skin care, apply an appropriate amount to the entire face, and gently pat for absorption.

CAUTIONS:
For external use only. Avoid contact with eyes. Discontinue use if signs of irritation or rash appear. Keep out of reach of children. Replace cap after use.

Super Aqua Max Toner:
WATER, PROPANEDIOL, DIPROPYLENE GLYCOL, BETAINE, ALCOHOL, PENTYLENE GLYCOL, SEA WATER, CENTELLA ASIATICA EXTRACT, FICUS CAPRICA (FIG) FRUIT EXTRACT, PORTULACA OLERACEA EXTRACT, PUERARIA THUNBERGIANA ROOT EXTRACT, GLYCYRRHIZA GLABRA (LICORICE) ROOT EXTRACT, PAEONIA LACTIFLORA ROOT EXTRACT, CNIDIUM OFFICINALE ROOT EXTRACT, ULMUS DAVIDIANA ROOT EXTRACT, AMARANTHUS CAUDATUS SEED EXTRACT, SARGASSUM MUTICUM EXTRACT, HYPNEA MUSCIFORMIS EXTRACT, ULVA LACTUCA EXTRACT, ECKLONIA CAVA EXTRACT, CODIUM TOMENTOSUM EXTRACT, AGARUM CRIBOSUM EXTRACT, ENTEROMORPHA COMPRESSA EXTRACT, LAMINARIA, JAPONICA EXTRACT, DUNALIELLA SALINA EXTRACT, SARGASSUM FULVELLUM EXTRACT, PORPHYRA YEZOENSIS EXTRACT, FUCUS VESICULOSUS EXTRACT, LAMINARIA SACCHARINA EXTRACT, SPIRULINA PLATENSIS EXTRACT, JANIA RUBENS EXTRACT, GELIDIUM CARTILAGINEUM EXTRACT, MACROCYSTIS PYRIFERA EXTRACT, ALGAE EXTRACT, UNDARIA PINNATIFIDA EXTRACT, CODIUM FRAGILE EXTRACT, LAMINARIA CLOUSTONI EXTRACT, CHLORELLA MINUTISSIMA EXTRACT, HIZIKIA FUSIFORME EXTRACT, SALICORNIA HERBACEA EXTRACT, PIKEA ROBUSTA EXTRACT, HYDROLYZED ALGAE EXTRACT, HYDROLYZED ULVA LACTUCA EXTRACT, HAEMATOCOCCUS PLUVIALIS EXTRACT, LAMINARIA DIGITATA EXTRACT, PEG-40 HYDROGENATED CASTOR OIL, SOLUBLE COLLAGEN, ALOE BARBADENSIS LEAF JUICE, HYDROGENATED LECITHIN, SODIUM HYALURONATE, BUTYLENE GLYCOL, ACRYLATES/C10-30 ALKYL ACRYLATE CROSSPOLYMER, TROMETHAMINE, ETHYLHEXYLGLYCERIN, DISODIUM EDTA, 1,2-HEXANEDIOL, LACTOBACILLUS/ALGAE EXTRACT FERMENT, MACROCYSTIS PYRIFERA (KELP) PROTEIN, ALGAE OLIGOSACCHARIDES, CHLORELLA FERMENT, XANTHAN GUM, CERAMIDE NP, FRAGRANCE, PHENOXYETHANOL.

Super Aqua Max Emulsion:
WATER, GLYCERIN, METHYLPROPANEDIOL, HYDROGENATED POLY(C6-14 OLEFIN), SORBITAN STEARATE, 1,2-HEXANEDIOL, CETYL ALCOHOL, ETHYLHEXYL STEARATE, SEA WATER, HYALURONIC ACID, CENTELLA ASIATICA EXTRACT, FICUS CARICA (FIG) FRUIT EXTRACT, PORTULACA OLERACEA EXTRACT, PUERARIA THUNBERGIANA ROOT EXTRACT, GLYCYRRHIZA GLABRA (LICORICE) ROOT EXTRACT, PAEONIA LACTIFLORA ROOT EXTRACT, CNIDIUM OFFICINALE ROOT EXTRACT, ULMUS DAVIDIANA ROOT EXTRACT, AMARANTHUS CAUDATUS SEED EXTRACT, SARGASSUM MUTICUM EXTRACT, HYPNEA MUSCIFORMIS EXTRACT, ULVA LACTUCA EXTRACT, ECKLONIA CAVA EXTRACT, CODIUM TOMENTOSUM EXTRACT, AGARUM CRIBOSUM EXTRACT, ENTEROMORPHA COMPRESSA EXTRACT, LAMINARIA JAPONICA EXTRACT, DUNALIELLA SALINA EXTRACT, SARGASSUM FULVELLUM EXTRACT, PORPHYRA YEZOENSIS EXTRACT, FUCUS VESICULOSUS EXRACT, LAMINARIA SACCHARINA EXTRACT, SPIRULINA PLATENSIS EXTRACT, JANIA RUBENS EXTRACT, GELIDIUM CARTILAGINEUM EXTRACT, MACROCYSTIS PYRIFERA EXTRACT, ALGAE EXTRACT, UNDARIA PINNATIFIDA EXTRACT, CODIUM FRAGILE EXTRACT, LAMINARIA CLOUSTONI EXTRACT, CHLORELLA MINUTISSIMA EXTRACT, HIZIKIA FUSIFORME EXTRACT, SALICORNIA HERBACEA EXTRACT, PIKEA ROBUSTA EXTRACT, HYDROLYZED ALGAE EXTRACT, HYDROLYZED ULVA LACTUCA EXTRACT, HAEMATOCOCCUS PLUVIALIS EXTRACT, LAMINARIA DIGITATA EXTRACT, SOLUBLE COLLAGEN, ALOE BARBADENSIS LEAF JUICE, SODIUM HYALURONATE, HYDROGENATED LECITHIN, STEARIC ACID, POLYSORBATE 60, DIMETHICONE, TROMETHAMINE, SUCROSE COCOATE, CARBOMER, GLYCERYL STEARATE, PEG-100 STEARATE, BUTYLENE GLYCOL, TOCOPHERYL ACETATE, DIPOTASSIUM GLYCYRRHIZATE, ETHYLHEXYLGLYCERIN, DISODIUM EDTA, LACTOBACILLUS/ALGAE EXTRACT FERMENT, MACROCYSTIS PYRIFERA (KELP) PROTEIN, ALGAE OLIGOSACCHARIDES, CHLORELLA FERMENT, XANTHAN GUM, CERAMIDE 3, FRAGRANCE.

Super Aqua Max Moisture Watery Cream:
SEAWATER,METHYLPROPANEDIOL,DIMETHICONE, CROSSPOLYMER, BETAINE, PIPER METHYSTICUM LEAF/ROOT/STEM EXTRACT, PORTULACA OLERACEA
EXTRACT, PUERARIA THUNBERGIANA ROOT EXTRACT, GLYCYRRHIZA GLABRA (LICORICE) ROOT EXTRACT. PAEONIA LACTIFLORA ROOT EXTRACT, CNIDIUM OFFICINALE ROOT EXTRACT, ULMUS DAVIDIANA ROOT EXTRACT,
AMARANTHUS CAUDATUS SEED EXTRACT, SARGASSUM MUTICUM EXTRACT, ECKLONIA CAVA EXTRACT,
CODIUM TOMENTOSUM EXTRACT, GELIDIUM CARTILAGINEUM EXTRACT, AGARUM CRIBROSUM EXTRACT,
ENTEROMORPHA COMPRESS EXTRACT, LAMINARIA JAPONICA EXTRACT, DUNALIELLA SALINA EXTRACT, LAMINARIA CLOUSTONI EXTRACT, SARGASSUM FULVELLUM EXTRACT, UNDARIA PINNATIFIDA EXTRACT,
PORPHYRA YEZOENSIS EXTRACT, FUCUS VESICULOSUS EXTRACT, LAMINARIA SACCHARIN EXTRACT, SPIRULINA PLATENSIS EXTRACT, JANIA RUBENS EXTRACT, CLADOSIPHON OKAMURANUS EXTRACT, EUGLENA
GRACILIS EXTRACT, MACROCYSTIS PYRIFERA (KELP) EXTRACT, ULVA LACTUCA EXTRACT, CODIUM FRAGILE EXTRACT, CHLORELLA MINUTISSIMA EXTRACT, HIZIKIA FUSIFORME EXTRACT, SALICORNIA HERBACEA EXTRACT,
PLANKTON EXTRACT, PIKE ROBUSTA EXTRACT, HYDROLYZED ULVA LACTUCA EXTRACT, HAEMATOCOCCUS PLUVIALIS EXTRACT, LAMINARIA DIGITATA EXTRACT, HYPNEA MUSCIFORMIS EXTRACT, SOLUBLE COLLAGEN,
SODIUM HYALURONATE, ALOE BARBADENSIS LEAF JUICE, HYDROGENATED LECITHIN, WATER, SODIUM POLYACRYLATE, AMMONIUM ACRYLOYLDIMETHYLTAURATE/VP COPOLYMER, TRIDECETH-6, GLYCOSYL TREHALOSE,
HYDROGENATED STARCH HYDROLYSATE, BUTYLENE GLYCOL, MACROCYSTIS PYRIFERA (KELP) PROTEIN, CHLORELLA FERMENT, HYDROLYZED ENTEROMORPHA COMPRESSA, XANTHAN GUM, 1,2-HEXANEDIOL,
POLYSORBATE 20, PEG/PPG-18/18 DIMETHICONE, PHENOXYETHANOL, ETHYLHEXYLGLYCERIN, C 14700, C 19140,
FRAGRANCE, BENZYL SALICYLATE, GERANIOL, HEXYL CINNAMAL, CITRONELLOL, LINALOOL, BENZYL BENZOATE

Super Aqua Max Fresh Watery Cream:
SEA WATER, ALCOHOL, BUTYLENE GLYCOL, CYCLOPENTASILOXANE, BETAINE, TRIETHANOLAMINE, ACRYLATES/C10-30 ALKYL ACRYLATE CROSSPOLYMER, AMARANTHUS CAUDATUS SEED EXTRACT, ULMUS DAVIDIANA ROOT EXTRACT, PIPER METHYSTICUM LEAF/ROOT/STEM EXTRACT, WATER, PHENOXYETHANOL, HYDROXYETHYL ACRYLATE/SODIUM ACRYLOYLDIMETHYL TAURATE COPOLYMER, XANTHAN GUM, DIMETHICONE, FRAGRANCE, PORTULACA OLERACEA EXTRACT, PUERARIA THUNBERGIANA ROOT EXTRACT, CNIDIUM OFFICINALE ROOT EXTRACT, GLYCYRRHIZA GLABRA (LICORICE) ROOT EXTRACT, PAEONIA LACTIFLORA ROOT EXTRACT, SOLUBLE COLLAGEN, SQUALANE, SARGASSUM MUTICUM EXTRACT, AGARUM CRIBOSUM EXTRACT, ALGAE EXTRACT, CHLORELLA MINUTISSIMA EXTRACT, CODIUM FRAGILE EXTRACT, CODIUM TOMENTOSUM EXTRACT, DUNALIELLA SALINA EXTRACT, ECKLONIA CAVA EXTRACT, ENTEROMORPHA COMPRESSA EXTRACT, FUCUS VESICULOSUS EXTRACT, GELIDIUM CARTILAGINEUM EXTRACT, HAEMATOCOCCUS PLUVIALIS EXTRACT, HIZIKIA FUSIFORME EXTRACT, HYDROLYZED ALGAE EXTRACT, HYDROLYZED ULVA LACTUCA EXTRACT, HYPNEA MUSCIFORMIS EXTRACT, JANIA RUBENS EXTRACT, LACTOBACILLUS/ALGAE EXTRACT FERMENT, LAMINARIA CLOUSTONI EXTRACT, LAMINARIA DIGITATA EXTRACT, LAMINARIA JAPONICA EXTRACT, LAMINARIA SACCHARINA EXTRACT, MACROCYSTIS PYRIFERA EXTRACT, PIKEA ROBUSTA EXTRACT, PORPHYRA YEZOENSIS EXTRACT, SALICORNIA HERBACEA EXTRACT, SSARGASSUM FULVELLUM EXTRACT, SPIRULINA PLATENSIS EXTRACT, ULVA LACTUCA EXTRACT, UNDARIA PINNATIFIDA EXTRACT, POLYSORBATE 60, ALOE BARBADENSIS LEAF JUICE, DIMETHICONE/VINYL DIMETHICONE CROSSPOLYMER, BENZOPHENONE-4, SODIUM HYALURONATE, DISODIUM EDTA, HYDROGENATED LECITHIN, SODIUM LAURETH SLFATE, ALGAE OLIGOSACCHARIDES, CHLORELLA FERMENT, MACROCYSTIS PYRIFERA (KELP) PROTEIN, METHYLISOTHIAZOLINONE

Super Aqua Max Combination Watery Cream:
SEA WATER, CYCLOPENTASILOXANE, GLYCERIN, DIMETHICONE, WATER, PEG-10 DIMETHICONE/VINYL DIMETHICONE CROSSPOLYMER, PIPER METHYSTICUM LEAF/ROOT/STEM EXTRACT, ULMUS DAVIDIANA ROOT EXTRACT, AMARANTHUS CAUDATUS SEED EXTRACT, SARAGASSUM MUTICUM EXTRACT, ECKLONIA CAVA EXTRACT, CODIUM TOMENTOSUM EXTRACT, GELIDIUM CARTILAGINEUM EXTRACT, AGARUM CRIBROSUM EXTRACT, ENTEROMORPHA COMPRESSA EXTRACT, LAMINARIA JAPONICA EXTRACT, DUNALIELLA SALINA EXTRACT, LAMINARIA CLOUSTONI EXTRACT, SARGASSUM FULVELLUM EXTRACT, UNDARIA PINNATIFIDA EXTRACT, PORPHYRA YEZOENSIS EXTRACT, FUCUS VESICULOSUS EXTRACT, LAMINARIA SACCHARINA EXTRACT, SPIRULINA PLATENSIS EXTRACT, JANIA RUBENS EXTRACT, CLADOSIPHON OKAMURANUS EXTRACT, EUGLENA GRACILIS EXTRACT, MACROCYSTIS PYRIFERA (KELP) EXTRACT, ULVA LACTUCA EXTRACT, CODIUM FRAGILE EXTRACT, CHLORELLA MINUTISSIMA EXTRACT, HIZIKIA FUSIFORME EXTRACT, SALICORNIA HERBACEA EXTRACT, PLANKTON EXTRACT, PIKEA ROBUSTA EXTRACT, HYDROLYZED ULVA LACTUCA EXTRACT, HAEMATOCOCCUS PLUVIALIS EXTRACT, LAMINARIA DIGITATA EXTRACT, HYPNEA MUSCIFORMIS EXTRACT, GLYCYRRHIZA GLABRA (LICORIZE) ROOT EXTRACT, PAEONIA LACTIFLORA ROOT EXTRACT, SODIUM HYALURONATE, HYDROGENATED LECITHIN, SOLUBLE COLLAGEN, ALOE BARBADENSIS LEAF JUICE, HYDROXYETHYL ACRYLATES/SODIUM ACRYLOYLDIMETHYL TAURATE COPOLYMER, SQUALANE, CARBOMER, TROMETHAMINE, SODIUM POLYACRYLATE, BUTYLENE GLYCOL, DIMETHICONE/VINYL DIMETHICONE CROSSPOLYMER, BETAINE, SORBITAN ISOSTEARATE, DIPOTASSIUM GLYCYRRHIZATE, MACROCYSTIS PYRIFERA (KELP) PROTEIN, CHLORELLA FERMENT, HYDROLYZED ENTEROMORPHA COMPRESSA, XANTHAN GUM, 1,2-HEXANEDIOL, POLYSORBATE 20, PEG-10 DIMETHICONE, POLYSORBATE 60, PHENOXYETHANOL, ETHYLEXYLGLYCERIN, CI 19140, CI 42090, FRAGRANCE, BUTYLPHENYL METHYLPROPIONAL, LIMONENE, HYDROXYCITRONELLAL