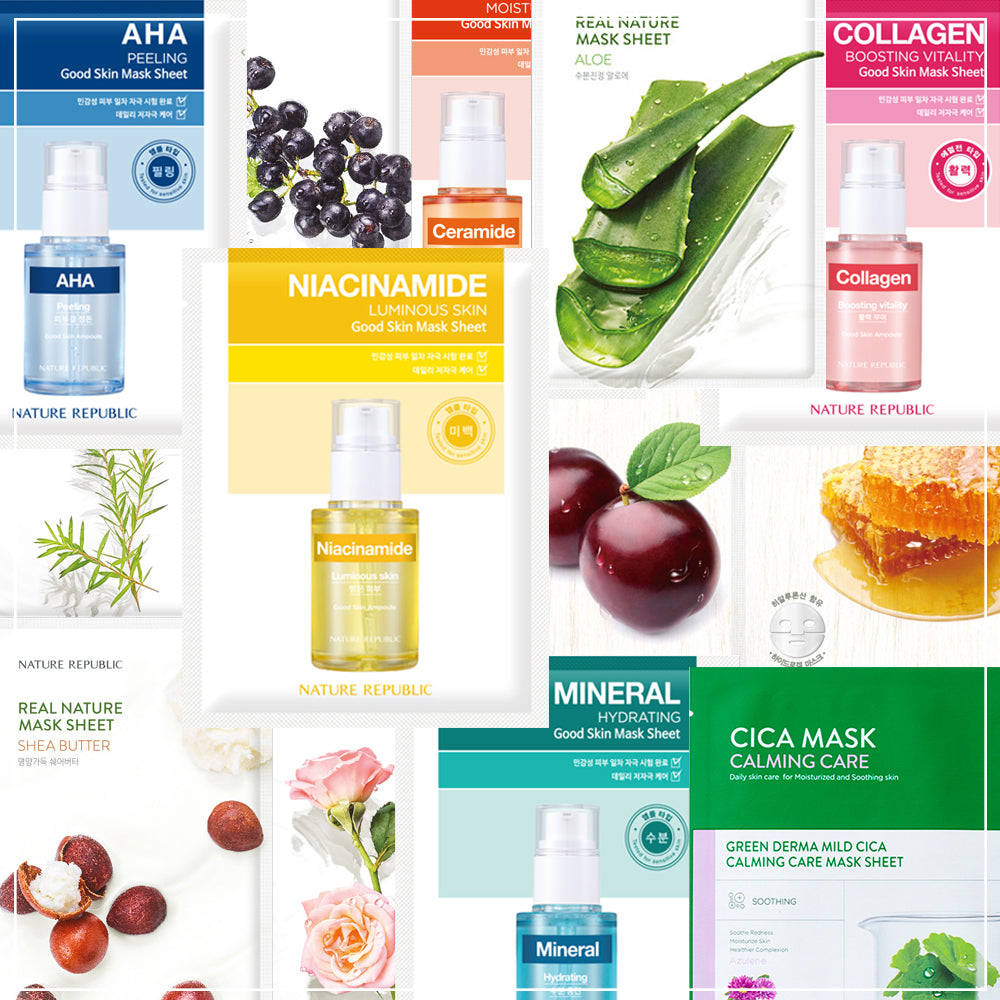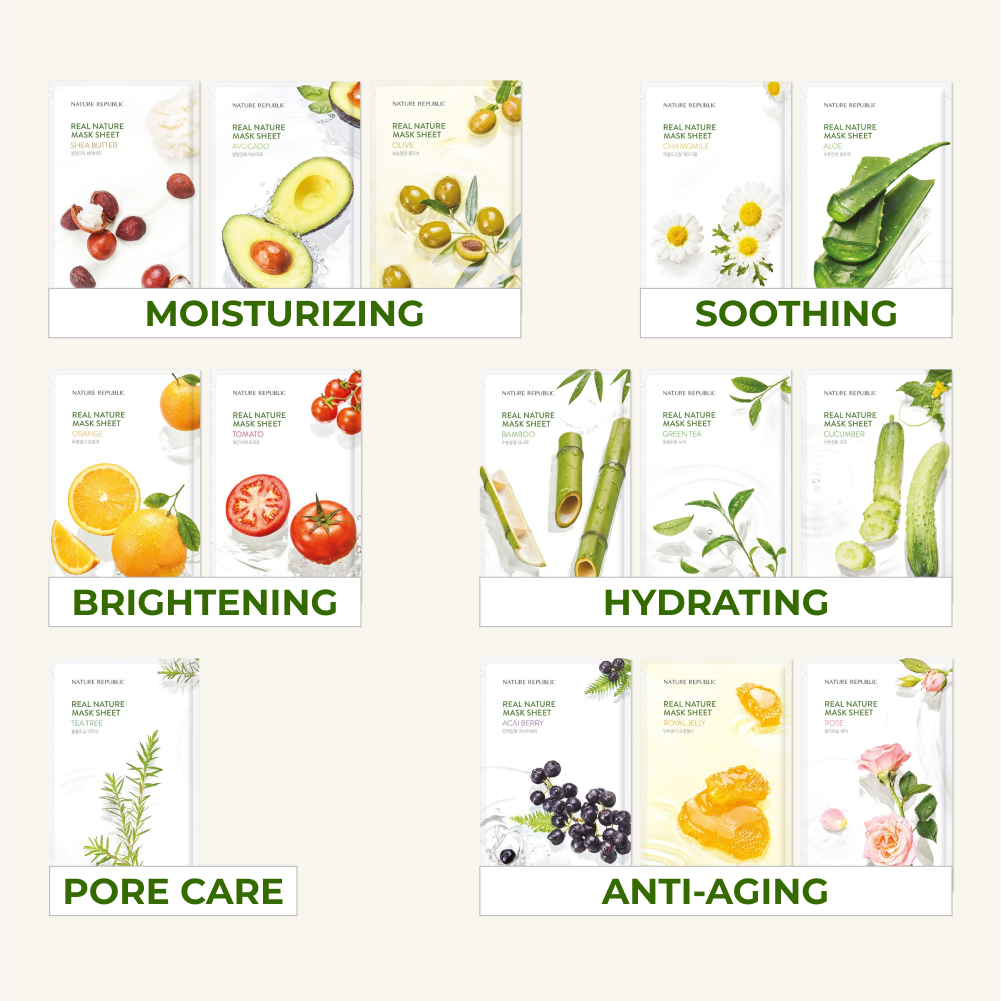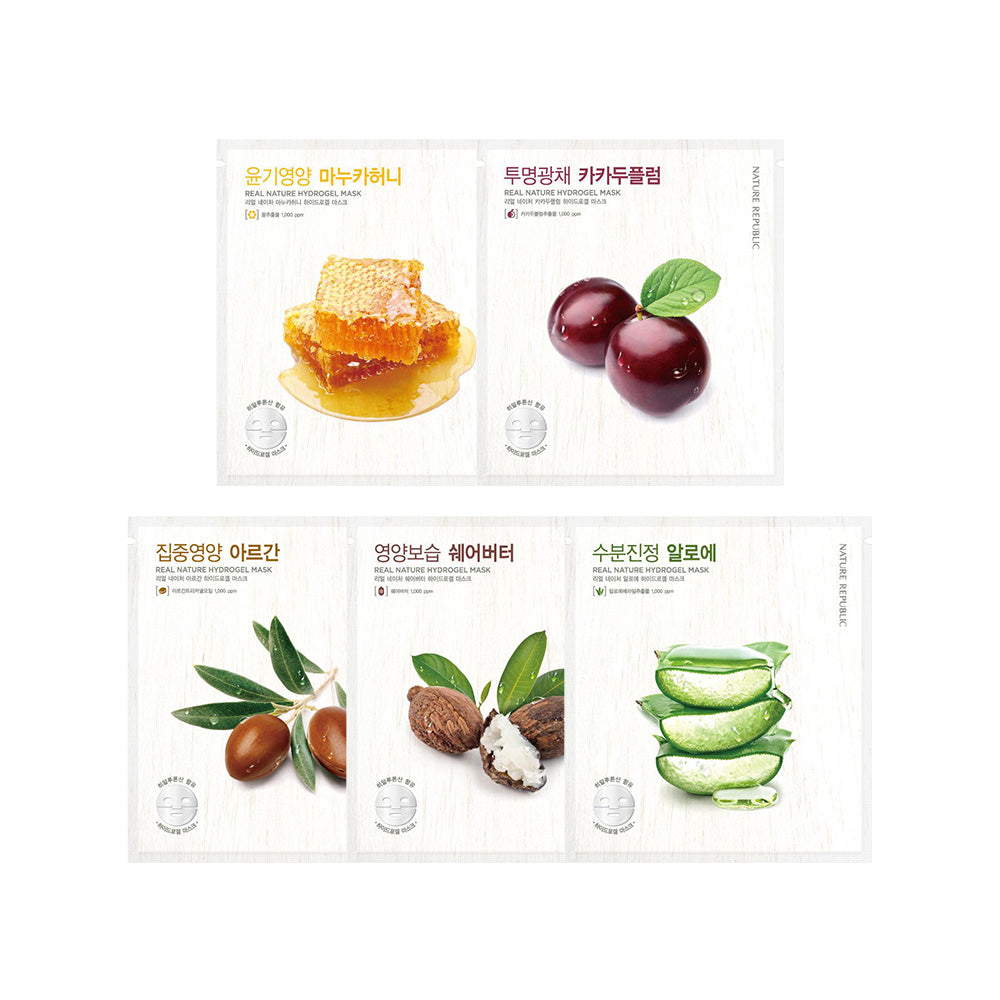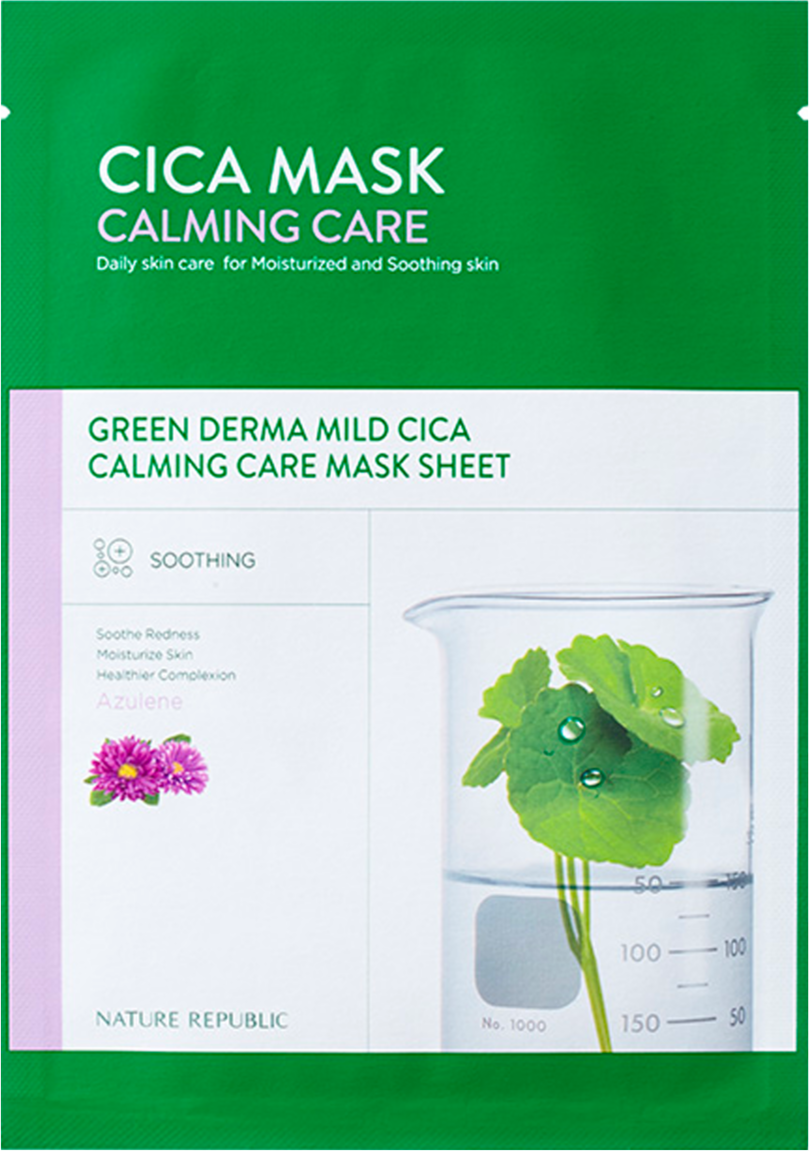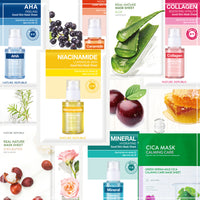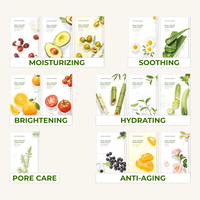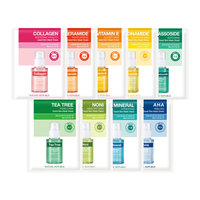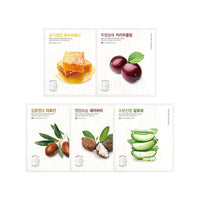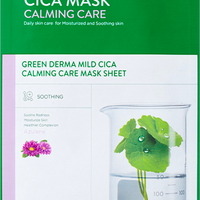 NATURE REPUBLIC 31 Mask Sheet Set
$77.00
$43.00
Sale

• Save
Description
How To Use
Ingredients
Nature Republic 31 Mask Sheet Set -
14x Real Nature Mask Sheet
  9x Good Skin Mask Sheet
  5x Real Nature Hydrogel Mask Sheet
  3x Green Derma Mild Cica Calming Care Mask Sheet
*Real Nature Mask Sheet:
(0x Chamomile / 2x Aloe)
- Shea Butter: Nutrition from African Shea Butter
- Avocado: Nutrition Enhancement from Mexico Avocado
- Olive: Moisturizing nourishments delivered by Greek olives
- Chamomile: Mild soothing delivered by Egyptian Chamomile
- Aloe: Calming moisture from California Aloe
- Orange: Transparent vitality from California oranges
- Tomato: Smooth whitening from long-lived tomatoes
- Bamboo: Soothing moisture delivered by Damyang bamboo
- Green Tea: Fresh water from Bosung Green Tea
- Cucumber: Moisture enhancement from Namwon cucumber
- Tea Tree: Tighten the pores provided tea tree from South Africa
- Acai Berry: Elasticity reinforcement from Brazilian Acai Berry
- Royal Jelly: Elasticity + Glossy delivered by royal jelly in Gangwon-do
- Rose: Morocco Roses' vitality boosting & moisturizing
*Good Skin Mask Sheet:
-Emulsion Type:
Collagen (Skin elasticity)
Ceramide (Moisturizing)
Vitamin E (Glossy skin)
Madecassocide (Soothing)
-Ampoule Type:
Niacinamide (Luminous skin)
Tea Tree (Pore care)
Noni (Healthy skin)
Mineral (Hydrating)
AHA (Peeling)
*Real Nature Hydrogel Mask Sheet
The Good Skin line provides 10 kinds of skin problem solutions for skin with the most gentle and non-aggressive ingredients to make skin healthier.
*Each of the mask sheets contains Flower, Fruit or Leaf Extract ingredients which makes it suitable for sensitive skin.
Real Nature Hydrogel Mask Sheet:
The hydrogel mask formulated with argan oil firms up skin texture by supplying nourishment deep into skin while delivering rich moisture to skin.
Green Derma Mild Cica Calming Care Mask Sheet: 
Green Derma is a mild skin care line that contains Centella Asiatica Extract for moisturized and healthy skin. Green Derma Mild Cica Calming Care Mask Sheet with its nourishing serum and gauze sheet helps soothe redness and strengthen the skin barrier for healthier and less stressed skin.
1. After washing the face, apply toner to prepare the skin for the next step of skin care.

2. Open the pouch, pull out the mask, and place on the face, using the eye area to align correctly.

3. Remove after 10-20 minutes and gently pat for better absorption.

CAUTIONS:
For external use only. Avoid contact with eyes. Discontinue use if signs of irritation or rashes appear. Keep out of reach of children. Replace cap after use.
Green Derma Mild Cica Calming Care Mask Sheet:
Purified Water, Butylene Glycol, Glycerin, Dipropylene Glycol, Centella Asiatica Extract (285,913 ppm), Sodium Hyaluronate, Sodium Hyaluronate Crosspolymer, Potassium Hyaluronate, Hydroxypropyltrimonium Hyaluronate, Hydrolyzed Sodium Hyaluronate, Hydrolyzed Hyaluronic Acid, Hyaluronic Acid, Madecassoside (0.01 ppm), Madecassic Acid (0.01 ppm), Asiaticoside (0.01 ppm), Asiatic acid (0.01 ppm), Sodium Acetylated Hyaluronate, Acetyl Tetrapeptide-5, Acetyl Hexapeptide-8, Oligopeptide-29, Oligopeptide-32, Tripeptide-1, Hexapeptide-9, Ceramide NP, Propolis Extract, Azulene, 1,2-Hexanediol, Hydroxyacetophenone, Hexylene Glycol, Arginine, Carbomer, Allantoin, Disodium EDTA, Hydroxyethylcellulose, Polyglyceryl-10 Laurate, Polyglyceryl-10 Myristate, Caprylic/Capric Triglyceride, Hydrogenated Phosphatidylcholine, Sucrose Stearate, Cetearyl Alcohol, Hydrogenated Lecithin, Ethylhexylglycerin, Cholesterol, Fragrance

Hydrogel Mask Sheet:
-Argan Hydrogel Mask Sheet:
WATER, GLYCERIN, DIPROPYLENE GLYCOL
CAPRYLIC/CAPRIC TRIGLYCERIDE, CERATONIA
SILIQUA (CAROB) GUM, CHONDRUS CRISPUS POWDER, GLYCERYL STEARATE, BUTYLENE
GLYCOL, PAEONIA SUFFRUTICOSA ROOT EXTRACT, CENTELLA ASIATICA EXTRACT, CELLULOSE GUM, ALGIN; 1,2-HEXANEDIOL CHAMOMILLA RECUTITA (MATRICARIA) FLOWER EXTRACT, ARGANIA SPINOSA KERNEL OIL, GLYCERYL CAPRYLATE, SODIUM POLYACRYLATE HYDROGENATED POLYDECENE, ETHYLHEXYLGLYCERIN, MELIA AZADIRACHTA LEAF EXTRACT, TRIDECETH-6, SODIUM HYALURONATE, HYDROLYZED HYALURONIC ACID, DISODIUM EDTA., PHENOXYETHANOL FRAGRANCE

-Kakadu Plum Hydrogel Mask Sheet:
WATER, GLYCERIN, DIPROPYLENE GLYCOL, CAPRYLIC/CAPRIC TRIGLYCERIDE, CERATONIA SILIQUA (CAROB) GUM. CHONDRUS CRISPUS POWDER, GLYCERYL STEARATE, BUTYLENE GLYCOL, PAEONIA SUFFRUTICOSA ROOT EXTRACT, CENTELLA ASIATICA EXTRACT, CELLULOSE GUM, ALGIN, 1,2-HEXANEDIOL, CHAMOMILLA RECUTITA (MATRICARIA) FLOWER EXTRACT, TERMINALIA, FERDINANDIANA FRUIT EXTRACT, GLYCERYL CAPRYLATE, SODIUM POLYACAYLATE, HYDROGENATED POLYDECENE.
ETHYLHEXYLGLYCERIN, MELA AZADIRACHTA LEAF EXTRACT, TRIDECETH-6, SODIUM HYALURONATE, HYDROLYZED HYALURONIC ACID, DISODIUM EDTA. PHENOXYETHANOL, FRAGRANCE, LINALOOL, LIMONENE

-Manuka Honey Hydrogel Mask Sheet:
WATER, GLYCERIN, DIPROPYLENE GLYCOL, CAPRYLIC/CAPRIC TRIGLYCERIDE, CERATONIA
SILIQUA (CAROB) GUM, CHONDRUS CRISPUS POWDER, GLYCERYL STEARATE, BUTYLENE GLYCOL, PAEONIA SUFFRUTICOSA ROOT EXTRACT,
CENTELLA ASIATICA EXTRACT, CELLULOSE GUM, ALGIN, 1,2-HEXANEDIOL, CHAMOMILLA RECUTITA (MATRICARIA) FLOWER EXTRACT, HONEY EXTRACT, GLYCERYL CAPRYLATE, SODIUM POLYACRYLATE, HYDROGENATED POLYDECENE, ETHYLHEXYLGLYCERIN, MELA AZADIRACHTA LEAF
EXTRACT, TRIDECETH-6, SODIUM HYALURONATE, HYDROLYZED HYALURONIC ACID, DISODIUM EDTA, PHENOXYETHANOL, FRAGRANCE

-Aloe Hydrogel Mask Sheet:
WATER, GLYCERIN, DIPROPYLENE GLYCOL, CAPRYLIC/CAPRIC TRIGLYCERIDE, CERATONIA SILIQUA (CAROB) GUM, CHONDRUS CRISPUS POWDER, GLYCERYL STEARATE, BUTYLENE GLYCOL, PAEONIA SUFFRUTICOSA ROOT EXTRACT, CENTELLA ASIATICA EXTRACT, CELLULOSE GUM, ALGIN, 1,2-HEXANEDIOL, CHAMOMILLA RECUTITA (MATRICARIA) FLOWER EXTRACT, ALOE BARBADENSIS LEAF EXTRACT. GLYCERYL CAPRYLATE, SODIUM POLYACRYLATE, HYDROGENATED POLYDECENE, ETHYLHEXYLGLYCERIN, MELIA AZADIRACHTA LEAF EXTRACT, TRIDECETH-6, SODIUM HYALURONATE, HYDROLYZED HYALURONIC ACID, DISODIUM EDTA, PHENOXYETHANOL, FRAGRANCE

-Shea Butter Hydrogel Mask Sheet:
WATER, GLYCERIN, DIPROPYLENE GLYCOL, CAPRYLIC/CAPRIC TRIGLYCERIDE, CERATONIA SILIQUA (CAROB) GUM, CHONDRUS CRISPUS POWDER, GLYCERYL STEARATE, BUTYLENE GLYCOL, PAEONIA SUFFRUTICOSA ROOT EXTRACT, CENTELLA ASIATICA EXTRACT, CELLULOSE GUM, ALGIN, 1,2-HEXANEDIOL CHAMOMILLA RECUTITA (MATRICARIA) FLOWER EXTRACT, BUTYROSPERMUM PARKII (SHEA) BUTTER, GLYCERYL CAPRYLATE, SODIUM POLYACRYLATE, HYDROGENATED POLYDECENE, ETHYLHEXYLGLYCERIN, MELIA AZADIRACHTA LEAF EXTRACT, TRIDECETH-6, SODIUM HYALURONATE, HYDROLYZED HYALURONIC ACID, DISODIUM EDTA, PHENOXYETHANOL, FRAGRANCE

-Grapefruit Hydrogel Mask Sheet:
WATER, GLYCERIN, DIPROPYLENE GLYCOL, CAPRYLIC/CAPRIC TRIGLYCERIDE, CERATONIA SILIQUA (CAROB) GUM, CHONDRUS CRISPUS POWDER, GLYCERYL STEARATE, BUTYLENE GLYCOL, PAEONIA SUFFRUTICOSA ROOT EXTRACT, CENTELLA ASIATICA EXTRACT, CELLULOSE GUM, ALGIN, 1,2-HEXANEDIOL, CHAMOMILLA RECUTITA
MATRICARIA) FLOWER EXTRACT, CITRUS PARADISI (GRAPEFRUIT) FRUIT EXTRACT, GLYCERYL CAPRYLATE, SODIUM POLYACRYLATE,
HYDROGENATED POLYDECENE, ETHYLHEXYLGLYCERIN, MELA AZADIRACHTA LEAF EXTRACT, TRIDECETH-6, SODIUM HYALURONATE.
HYDROLYZED HYALURONIC ACID, DISODIUM EDTA, PHENOXYETHANOL, FRAGRANCE, LIMONENE

-Green Grape Hydrogel Mask Sheet:
WATER, GLYCERIN, DIPROPYLENE GLYCOL CAPRYLIC/CAPRIC TRIGLYCERIDE, CERATONIA SILIQUA (CAROB) GUM, CHONDRUS CRISPUS POWDER, GLYCERYL STEARATE. BUTYLENE GLYOOL PAEONIA SUFFRUTICOSA ROOT EXTRACT, CENTELLA ASIATICA EXTRACT. CELLULOSE GUM, ALGIN, 1.2-HEXANEDIOL, CHAMOMILLA RECUTITA
MATRICARIA) FLOWER EXTRACT, VITIS VINIFERA (GRAPE) FRUIT EXTRACT, GLYCERYL CAPRYLATE, SODIUM POLYACRYLATE, HYDROGENATED
POLYDECENE, ETHYLHEXYLGLYCERIN, MELIA AZADIRACHTA LEAF EXTRACT, TRIDECETH-6, SODIUM HYALURONATE, HYDROLYZED
HYALURONIC ACID, DISODIUM EDTA, PHENOXYETHANOL, FRAGRANCE

-Green Tea Hydrogel Mask Sheet:
WATER, GLYCERIN, DIPROPYLENE GLYCOL, CAPRYLIC/CAPRIC TRIGLYCERIDE, CERATONIA SILIQUA (CAROB) GUM, CHONDRUS CRISPUS POWDER, GLYCERYL STEARATE, BUTYLENE GLYCOL, PAEONIA SUFFRUTICOSA ROOT EXTRACT, CENTELLA ASIATICA EXTRACT, CELLULOSE GUM, ALGIN, 1,2-HEXANEDIOL, CHAMOMILLA RECUTITA
(MATRICARIA) FLOWER EXTRACT, CAMELLIA SINENSIS SEED EXTRACT, GLYCERYL CAPRYLATE, SODIUM POLYACRYLATE, HYDROGENATED
POLYDECENE, ETHYLHEXYLGLYCERIN, MELIA AZADIRACHTA LEAF EXTRACT, TRIDECETH-6, SODIUM HYALURONATE, HYDROLYZED
HYALURONIC ACID, DISODIUM EDTA, PHENOXYETHANOL, FRAGRANCE, HEXYL CINNAMAL, LINALOOL; LIMONENE

Good Skin Mask Sheet:
Water, Glycerin, Caprylic/Capric Triglyceride, Agave Americana Stem Extract, Hydrolyzed Collagen, Lavandula Angustifolia (Lavender) Oil, Citrus Aurantium Dulcis (Orange) Peel Oil, Althaea Rosea Flower Extract, Glyceryl Stearate, Hydroxyacetophenone, Acrylates/C10-30 Alkyl Acrylate Crosspolymer, Allantoin, Tromethamine, Caprylyl Glycol, Ethylhexylglycerin, Butylene Glycol, 1,2-Hexanediol, Cetearyl Alcohol, Caffeine, Xanthan Gum, Disodium EDTA, Limonene, Linalool

Real Nature Mask Sheet:
-Shea Butter Mask Sheet:
WATER, DIPROPYLENE GLYCOL, CETYL ETHYLHEXANOATE, GLYCERIN, POLYGLYCERYL-3 METHYLGLUCOSE DISTEARATE, DIMETHICONE, GLYCERYL STEARATE, PEG-100 STEARATE, BUTYLENE GLYCOL, PAEONIA SUFFRUTICOSA ROOT EXTRACT, CENTELLA ASIATICA
EXTRACT, 1,2-HEXANEDIOL, CARBOMER, HYDROXYETHYLCELLULOSE, BUTYROSPERMUM PARKII (SHEA) BUTTER, CHAMOMILLA RECUTTITA (MATRICARIA) FLOWER EXTRACT, GLYCERYL CAPRYLATE, POTASSIUM HYDROXIDE, ETHYLHEXYL GLYCERIN, SOPHORA ANGUSTIFOLIA ROOT EXTRACT, LONICERA JAPONICA (HONEYSUCKLE) FLOWER EXTRACT, CAMELLIA SINENSIS LEAF EXTRACT, PRUNUS PERSICA (PEACH) LEAF EXTRACT, GINKGO BILOBA LEAF EXTRACT, SCUTELLARIA
BAICALENSIS ROOT EXTRACT, DISODIUM EDTA, FRAGRANCE, ALPHA-ISOMETHYL IONONE, CITRONELLOL, LINALOOL BUTYLPHENYL METHYLPROPIONAL, BENZYL ALCOHOL, COUMARIN

-Avocado Mask Sheet:
WATER, DIPROPYLENE GLYCOL, CETYL ETHYLHEXANOATE, GLYCERIN, POLYGLYCERYL-3 METHYLGLUCOSE DISTEARATE, DIMETHICONE, GLYCERYL STEARATE, PEG-100 STEARATE, BUTYLENE GLYCOL, PAEONIA SUFFRUTICOSA ROOT EXTRACT, CENTELLA ASIATICA EXTRACT,
1,2-HEXANEDIOL, CARBOMER, HYDROXYETHYLCELLULOSE, PERSEA GRATISSIMA (AVOCADO) FRUTT EXTRACT, CHAMOMILLA
RECUTITA (MATRICARIA) FLOWER EXTRACT, GLYCERYL CAPRYLATE, POTASSIUM HYDROXIDE, ETHYLHEXYLGLYCERIN, GENTIANA LUTE ROOT EXTRACT, ACHILLEA MILLEFOLIUM EXTRACT, ARTEMISIA ABSINTHIUM EXTRACT, ARNICA MONTANA FLOWER EXTRACT, DISODIUM EDTA, FRAGRANCE, BUTYLPHENYL METHYLPROPIONAL, HEXYL. CINNAMAL, HYDROXYCITRO NELLAL, LINALOOL

-Olive Mask Sheet:
WATER, DIPROPYLENE GLYCOL CETYL ETHYLHEXANOATE, GLYCERIN, POLYGLYCERYL-3 METHYLGLUCOSE DISTEARATE, DIMETHICONE, GLYCERYL STEARATE, PEG-100 STEARATE, BUTYLENE GLYCOL, PAEONIA SUFFRUTICOSA ROOT EXTRACT, CENTELLA ASIATICA EXTRACT,
1,2-HEXANEDIOL, CARBOMER, HYDROXYETHYLCELLULOSE, OLEA EUROPAEA (OLIVE) FRUIT EXTRACT, CHAMOMILLA RECUTITA
(MATRICARIA) FLOWER EXTRACT, GLYCERYL CAPRYLATE, POTASSIUM HYDROXIDE, ETHYLHEMYLGLYCERIN, GENTIANA LUTEA
ROOT EXTRACT, ACHILLEA MILLEFOLUM EXTRACT, ARTEMISIA ABSINTHIUM EXTRACT, ARNICA MONTANA FLOWER EXTRACT, DISODIUM EDTA, FRAGRANCE/LINALOOL HEXYL CINNAMAL, BUTYLPHENYL METHYLPROPIONAL)

-Chamomile Mask Sheet:
WATER, GLYCERIN, DIPROPYLENE GLYCOL, ALCOHOL, HYDROXYETHYLCELLULOSE, BUTYLENE GLYCOL, 1,2-HEXANEDIOL, PAEONIA SUFFRIUTICOSA ROOT EXTRACT, CENTELLA ASIATICA EXTRACT, TREHALOSE, PEG-60 HYDROGENATED CASTOR OIL, CHAMOMILLA RECUTITA (MATRICARIA) FLOWER EXTRACT, ANTHEMS NOBILIS FLOWER EXTRACT, GLYCERYL CAPRYLATE, ARGININE, CARBOMER,
ETHYLHEXYLGLYCERIN, SODIUM HYALURONATE, GLYCERYL ACRYLATE/ACRYLIC ACID COPOLYMER, PVM/MA COPOLYMER, CAMELLIA SINENSIS LEAF EXTRACT, SOPHORA ANGUSTIFOLIA ROOT EXTRACT, LONICERA JAPONICA (HONEYSUCKLE) FLOWER EXTRACT, PRUNUS PERSICA (PEACH) LEAF EXTRACT, PAEONIA ALBIFLORA ROOT EXTRACT, GINKGO BILOBA LEAF EXTRACT, SCUTELLARIA BAICALENSIS ROOT EXTRACT, DISODIUM EDTA, FRAGRANCE

-Aloe Mask Sheet:
WATER,GLYCERIN, DIPROPYLENE GLYCOL, ALCOHOL, HYDROXYETHYLCELLULOSE, BUTYLENE GLYCOL, 1,2-HEXANEDIOL, PAEONIA
SUFFRUTICOSA ROOT EXTRACT, CENTELLA ASIATICA EXTRACT, TREHALOSE, PEG-60 HYDROGENATED CASTOR OIL,
CHAMOMILLA RECUTITA (MATRICARIA) FLOWER EXTRACT, ALOE BARBADENSIS LEAF EXTRACT, SEA WATER, GLYCERYL CAPRYLATE, ARGININE, CARBOMER, ETHYLHEXYLGLYCERIN, SODIUM HYALURONATE, GLYCERYL ACRYLATE/ACRYLIC ACID COPOLYMER, PVM/MA COPOLYMER, DISODIUM EDTA, FRAGRANCE

-Orange Mask Sheet:
WATER, GLYCERIN, DIPROPYLENE GLYCOL ALCOHOL
HYDROXYETHYLCELLULOSE, BUTYLENE GLYCOL, 1,2-HEXANEDIOL, PAEONIA SUFFRUTICOSA ROOT EXTRACT, CENTELLA ASIATICA EXTRACT, TREHALOSE, CITRUS AURANTIUM DULCIS (ORANGE) FRUIT EXTRACT, PEG-60 HYDROGENATED CASTOR OIL, CHAMOMILLA RECUTITA (MATRICARIA) FLOWER EXTRACT, GLYCERYL CAPRYLATE, ARGININE, CARBOMER.
ETHYLHEXYLGLYCERIN, SODIUM HYALURONATE, GLYCERYL ACRYLATE/ACRYLIC ACID COPOLYMER. PVM/MA COPOLYMER, CITRUS AURANTIFOLIA (ME) FRUIT EXTRACT, CITRUS LIMON (LEMON) FRUIT EXTRACT, PYRUS MALUS (APPLE FRUIT EXTRACT, VITIS VINIFERA (GRAPE) FRUIT EXTRACT, DISODIUM EDTA. FRAGRANCE

-Tomato Mask Sheet:
WATER, GLYCERIN, DIPROPYLENE GLYCOL, NIACINAMIDE, ALCOHOL, HYDROXYETHYLCELLULOSE, BUTYLENE GLYCOL, 1,2-HEXANEDIOL, PAEONIA SUFFRUTICOSA ROOT EXTRACT, CENTELLA ASIATICA EXTRACT, PEG-60 HYDROGENATED CASTOR OIL TREHALOSE, CHAMOMILLA RECUTITA (MATRICARIA) FLOWER EXTRACT, SOLANUM LYCOPERSICUM TOMATO) FRUIT EXTRACT, GLYCERYL CAPRIYLATE, ARGININE, CARBOMER, ETHYLHEXYLGLYCERIN, SODIUM HYALURONATE, GLYCERYL ACRYLATE/ACRYLIC ACID COPOLYMER, PM/MA COPOLYMER, CITRUS AURANTIFOLIA (LIME) FRUIT EXTRACT, CITRUS LIMON LEMON) FRUIT EXTRACT, PYRUS MALUS (APPLE) FRUIT EXTRACT, CITRUS AURANTIUM DULCIS (ORANGE FRUIT EXTRACT, VITIS VINIFERA (GRAPE) FRUIT EXTRACT, DISODIUM EDTA., FRAGRANCE

-Bamboo Mask Sheet:
WATER, GLYCERIN, DIPROPYLENE GLYCOL, ALCOHOL, HYDROXYETHYLCELLULOSE, BUTYLENE GLYCOL, 1,2-HEXANEDIOL, PAEONIA SUFFRUTICOSA ROOT EXTRACT, CENTELLA ASIATICA EXTRACT, TREHALOSE, BAMBUSA VULGARIS EXTRACT, CHAMOMILLA RECUTITA (MATRICARIA) FLOWER EXTRACT, PEG-60 HYDROGENATED CASTOR OIL, SEA WATER, GLYCERYL CAPRYLATE, ARGININE, CARBOMER,
ETHYLHEXYLGLYCERIN, SODIUM HYALURONATE, GLYCERYL ACRYLATE/ACRYLIC ACID COPOLYMER, PM/MA COPOLYMER, DISODIUM EDTA, FRAGRANCE (LINALOOL, LIMONENE)

-Green Tea Mask Sheet:
WATER, GLYCERIN, DIPROPYLENE GLYCOL, ALCOHOL, HYDROXYETHYLCELLULOSE, BUTYLENE GLYCOL, 1,2-HEXANEDIOL, PAEONIA
SUFFRUTICOSA ROOT EXTRACT, CENTELLA ASIATICA EXTRACT, TREHALOSE, CHAMOMILLA RECUTITA (MATRICARIA) FLOWER EXTRACT, PEG-80 HYDROGENATED CASTOR OIL, CAMELLIA SINENSIS SEED EXTRACT, GLYCERYL CAPRYLATE, ARGININE, CARBOMER, ETHYLHEXYLGLYCERIN, SODIUM HYALURONATE, GLYCERYL ACRYLATE/ACRYLIC ACID COPOLYMER, PVM/MA COPOLYMER, DISODIUM EDTA, FRAGRANCE, HEXYL CINNAMAL

Cucumber Mask Sheet:
WATER, GLYCERIN, DIPROPYLENE GLYCOL
ALCOHOL, HYDROXYETHYLCELLULOSE, BUTYLENE GLYCOL, 1,2-HEXANEDIOL, PAEONIA SUFFRUTICOSA ROOT EXTRACT, CENTELLA ASIATICA EXTRACT, PEG-60 HYDROGENATED CASTOR OIL, TREHALOSE, CHAMOMILLA RECUTITA MATRICARIA) FLOWER EXTRACT, CUCUMIS SATIVUS (CUCUMBER) FRUIT EXTRACT, GLYCERYL CAPRYLATE, ARGININE, CARBOMER.
ETHYLHEXYLGLYCERIN, SODIUM HYALURONATE, GLYCERYL ACRYLATE/ACRYLIC ACID COPOLYMER, PM/MA COPOLYMER, LAVANDULA ANGUSTIFOLIA (LAVENDER) EXTRACT, MELISSA OFFICINALIS LEAF EXTRACT, ORIGANUM VULGARE LEAF EXTRACT, PELARGONIUM GRAVEOLENS EXTRACT, EUCALYPTUS GLOBULLS LEAF EXTRACT, MELALEUCA ALTERNIFOLIA (TEA TREE) LEAF EXTRACT, MENTHA PIPERITA (PEPPERMINT) LEAF EXTRACT, DISODIUM EDTA, FRAGRANCE, BENZYL BENZOATE

-Tea Tree Mask Sheet:
WATER, GLYCERIN, DIPROPYLENE GLYCOL
ALCOHOL, HYDROXYETHYLCELLULOSE, BUTYLENE GLYCOL 1,2-HEXANEDIOL, PAEONIA SUFFRUTICOSA ROOT EXTRACT, CENTELLA ASIATICA EXTRACT, TREHALOSE, MELALEUCA ALTERNIFOLIA (TEA TREE) LEAF EXTRACT, PEG-80 HYDROGENATED CASTOR OIL, CHAMOMILLA RECUTITA (MATRICARIA) FLOWER EXTRACT, GLYCERYL CAPRYLATE, ARGININE, CARBOMER.
ETHYLHEMYL.GLYCERIN, SODIUM HYALURONATE, GLYCERYL. ACRYLATE/ACRYLIC ACID COPOLYMER, MELALEUCA ALTERNIFOLIA
(TEA TREE) LEAF OIL, PVM/MA COPOLYMER, LAVANDULA ANGUSTIFOLIA (LAVENDER) EXTRACT, MELISSA OFFICINALIS LEAF
EXTRACT, ORIGANUM VULGARE LEAF EXTRACT, PELARGONIUM GRAVEOLENS EXTRACT, EUCALYPTUS GLOBULUS LEAF EXTRACT, MENTHA PIPERITA (PEPPERMINT) LEAF EXTRACT, DISODIUM EDTA, FRAGRANCE, BENZYL SALICYLATE

-Acai Berry Mask Sheet:
WATER, DIPROPYLENE GLYCOL, CETYL ETHYLHEXANOATE, GLYCERIN, POLYGLYCERYL-3 METHYLGLUCOSE DISTEARATE, DIMETHICONE, GLYCERYL STEARATE, PEG-100 STEARATE, BUTYLENE GLYCOL, PAEONIA SUFFRUTICOSA ROOT EXTRACT, CENTELLA ASIATICA EXTRACT,
1,2-HEXANEDIOL, CARBOMER, HYDROXYETHYLCELLULOSE, EUTERPE OLERACEA FRUIT EXTRACT, CHAMOMILLA RECUTITA MATRICARIA) FLOWER EXTRACT, GLYCERYL CAPRYLATE, POTASSIUM HYDROXIDE, ADENOSINE, ETHYLHEXYLGLYCERIN. GENTIANA LUTE ROOT EXTRACT, ACHILLEA MILLEFOLIUM EXTRACT, ARTEMISIA ABSINTHIUM EXTRACT, ARNICA MONTANA FLOWER EXTRACT, DISODIUM EDTA, FRAGRANCE, LIMONENE

-Royal Jelly Mask Sheet:
WATER, GLYCERIN, DIPROPYLENE GLYCOL
ALCOHOL, HYDROXYETHYLCELLULOSE, BUTYLENE GLYCOL, 1,2-HEXANEDIOL, PAEONIA SUFFRUTICOSA ROOT EXTRACT, CENTELLA ASIATICA EXTRACT, TREHALOSE, ROYAL JELLY EXTRACT, PEG-60 HYDROGENATED CASTOR OIL, CHAMOMILLA RECUTTTA (MATRICARIA) FLOWER EXTRACT, GLYCERYL CAPRYLATE, ARGININE, CARBOMER, ADENOSINE, ETHYLHEXYLGLYCERIN,
SODIUM HYALURONATE, GLYCERYL ACRYLATE/ACRYLIC ACID COPOLYMER, PVM/MA COPOLYMER, CITRUS AURANTIFOLIA LIME.
FRUIT EXTRACT, CITRUS LIMON (LEMON) FRUIT EXTRACT, PYRUS MALUS (APPLE) FRUIT EXTRACT, CITRUS AURANTIUM DULOIS (ORANGE) FRUIT EXTRACT, VITIS VINIFERA (GRAPE) FRUIT EXTRACT, DISODIUM EDTA, FRAGRANCE

-Rose Mask Sheet:
WATER, GLYCERIN, DIPROPYLENE GLYCOL, ALCOHOL HYDROXYETHYLCELLULOSE, BUTYLENE GLYCOL, 1,2-HEXANEDIOL, PAEONIA SUFFRUTICOSA ROOT EXTRACT, CENTELLA
ASIATICA EXTRACT, TREHALOSE, ROSA DAMASCENA EXTRACT, CHAMOMILLA RECUTITA (MATRICARIA) FLOWER EXTRACT, PEG-60 HYDROGENATED CASTOR OIL, GLYCERYL CAPRYLATE, ARGININE, CARBOMER, ETHYLHEXYLGLYCERIN, SODIUM HYALURONATE, GLYCERYL ACRYLATE/ACRYLIC ACID COPOLYMER, PVM/MA COPOLYMER, CAMELLIA SINENSIS LEAF EXTRACT, SOPHORA ANGUSTIFOLIA ROOT EXTRACT, LONICERA JAPONICA (HONEYSUCKLE) FLOWER EXTRACT, PRUNUS PERSICA (PEACH) LEAF EXTRACT, PAEONIA ALBIFLORA ROOT EXTRACT, GINKGO BILOBA LEAF EXTRACT, SCUTELLARIA
BAICALENSIS ROOT EXTRACT, DISODIUM EDTA, FRAGRANCE, CITRONELLOL